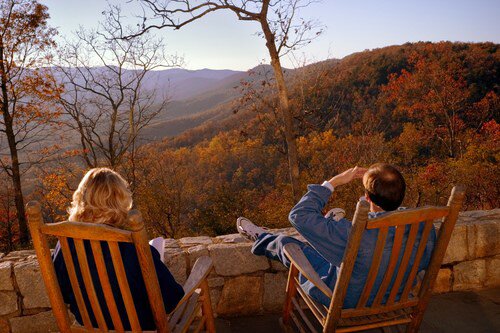 Courtesy Amicalola Falls State Park and Lodge in Georgia
By Maryann Hammers
With summer behind us and fall fast approaching, it's time to think about an autumn or winter getaway. Whether you seek solitude, scenery, or just good skiing, a mountain vacation is the place to go. Elevate your next vacation with military discounts of up to 25 percent.
COLORADO
Keystone Resort is a family-friendly, four-season ski resort with two villages and more than 3,000 acres of Rocky Mountain terrain spread across three peaks. Winter activities include mountaintop tubing, night skiing, scenic snow KAT tours, snowshoe adventures, and ice-skating under the stars. The resort partners with the Air Force to offer active duty, reserve, or retired military members (plus their immediate family members and guests) a discount of 10 percent off the best available rates on lodging. Accommodations range from hotel rooms to multi-bedroom condos. Rates currently start at $139, not including the military discount. All kids 12 and younger ski free with two or more nights of lodging. Call (866) 768-2583.
GEORGIA
Amicalola Falls State Park & Lodge consists of 829 acres of mountain wilderness in the Chattahoochee National Forest. Accommodations include a 57-room main lodge, 14 cabins, and 25 campsites. Outdoor activities include zip lines, 3D archery, survivalist camp, rock climbing, GPS scavenger hunts, guided trail runs, and hiking. Military members get a year-round 25-percent discount off rooms, cabins, and Park Pass fees. Call (800) 573-9656.
Unicoi State Park & Lodge, in the charming Bavarian-style town of Helen in the Blue Ridge Mountains, consists of a 100-room main lodge, 30 cabins, and 82 campsites on 1,029 acres of wilderness. Activities include ziplines, archery, GPS scavenger hunts, paddleboard lessons, mountain biking, kayaking, and a primitive overnight sleep-under-the-stars camping class. Military members get a year-round 25-percent discount off rooms, cabins, and Park Pass fees. Call (800) 573-9659.
PENNSYLVANIA
Woodloch, an all-inclusive, four-season lakeside family resort in the Pocono Mountains, will keep you busy with a full menu of activities, nightly entertainment, a championship golf course and a destination spa. The resort honors military member with its "Heroes Club," offering a10-percent discount on weekend American Plan packages (or a 15-percent discount midweek) when you stay at least two nights. You also get a complimentary welcome beverage at check-in, one-hour extended checkout on your departure day, and a take-home gift from the on-site bakery. Holidays and summer stays are excluded from the offer. Call (800) 966-3562, Option #1, and mention promo code SPEC07.
VIRGINIA
Skyland and Big Meadows Lodge, both located along Skyline Drive in Shenandoah National Park, offer retired and active members of the Army, Navy, Air Force, Marine Corps, and Coast Guard a 20-percent midweek lodging discount.
Open March through November, Skyland is located along Skyline Drive's highest elevation (3,680 feet). Its accommodations include small cabins, comfortable rooms, pet-friendly rooms ($25 per pet per night), and luxury rooms and suites.
Open early May through early November, Big Meadows Lodge was built in 1939 and is listed on the National Register of Historic Places. Choose from small cabins, lodge rooms, or comfortable private rooms. Pet-friendly rooms are available ($25 per pet per night).
Call (877) 847-1919 to reserve at either location. If booking online, use promo code "MILITARY."
Peaks of Otter Lodge, on Abbott Lake in the Blue Ridge Mountains, offers retired and active duty military members a 15-percent discount on lodging during November and December. Located on the scenic Blue Ridge Parkway, the lodge offers easy access to miles of hiking trails, nearby wineries, historic sites, and museums. The lodge also is known for its night-sky viewing and astronomy presentations. A full-service dining room and lounge are on-site. Use promo code MILITARY when booking online or call (866) 387-9905.
Shadow Mountain Escape is near the Shenandoah National Park entrance, Luray Caverns, and Lake Arrowhead. Owned by a retired Army officer and his wife, the couples-only (no children) timber-frame cabins are on a 15-acre property with a mountains stream, pond, and nature trail. Two-night packages start at $370, but military members get a 10-percent discount, plus evening campfire and complimentary cake and cookies. Use code "military" when booking online. Call (540) 843-0584.