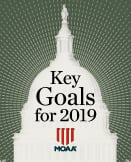 MOAA's top legislative goals for 2019 will be featured in an upcoming edition of Military Officer magazine, which is available to MOAA Life and Premium members. Here's a preview of one key issue; see the links below for the rest, including ways you can make your voice heard.
The Goal: Achieve equity of benefits for Guard and Reserve members with their active duty counterparts.
Background: An operational Guard and Reserve is an essential component to the national defense strategy because they make up approximately 38 percent of U.S. uniformed manpower.
MOAA's Stance: Achieving pay and benefits parity with active duty forces is vital to recruiting, retaining, and sustaining forces for the Guard and Reserve supporting our nation's defense strategy.
Actions: Encourage Congress to advance equal pay and benefits for similar service by the Guard and Reserve relative to active duty troops. Build partnerships with federal agencies, such as the Department of Labor, Employer Support of the Guard and Reserve, and state governors to expand and strengthen employer support for Guard and Reserve members. Appeal to The Military Coalition and its Guard and Reserve Committee to expand influence and reach in all areas affecting pay and benefits issues.
[TAKE ACTION: Visit MOAA's Legislative Action Center]
More key goals:
Prevent disproportional TRICARE fee increases
Sustain military pay comparability with the private sector.
Stop erosion of compensation and non-pay quality-of-life benefits.
End financial penalties for military survivors.
End concurrent receipt penalties for military retirees.
Achieve equity of benefits for Guard and Reserve members with their active duty counterparts.
Strengthen DoD-VA collaboration and services to support wounded warriors and an expanding population of women veterans.
Ensure timely access to service-earned VA benefits.
Protect military and veteran family support programs and policies.