A former Coast Guard officer has petitioned the U.S. Supreme Court to consider the fairness of the Feres doctrine in medical malpractice cases, specifically the death of his wife, Navy Lt. Rebekah "Moani" Daniel, during childbirth at Naval Hospital Bremerton, Wash.
Daniel, a labor and delivery nurse at the hospital, went into labor March 8, 2014, and was admitted to the facility, where she delivered a healthy daughter the next day, seemingly without complication. But immediately following the birth, Daniel began hemorrhaging, and while her providers administered medications to curb the bleeding, it didn't stop.
Within two hours of the birth, Daniel had lost about a third of her body's blood volume; an hour after that, she received a massive transfusion and plasma, but the delay proved too much, according to court documents. She died just four hours after becoming a mother.
Shortly after the birth, Walter Daniel, then a Coast Guard lieutenant commander, filed a wrongful death suit against the Navy for "negligent and wrongful acts" by the hospital and those who cared for his wife. The case was dismissed, as were subsequent appeals, based on Feres, a 68-year-old ruling that bars active-duty service members from suing the federal government for injuries incidental to military service.
In October, Daniel and his attorney, Andrew Hoyal, filed a petition to have the case heard in the Supreme Court, the first Feres case in three years to request consideration. "What happened to Lt. Daniel could have happened to a civilian spouse in the room next to her," and that spouse's family has the right to sue, Hoyal explained.
But active duty members do not have that ability. "The court has a hesitancy to deal with military discipline issues, combat, the organizational part of the military … what makes medical malpractice different is that there are not any military issues involved," Hoyal said. "Doctors are using medical judgments, not military considerations in these facilities."
The last Feres case petitioned to the U.S. Supreme Court also involved an active duty mother in childbirth. In 2015, the family of Air Force Capt. Heather Ortiz filed an appeal to the high court over the birth of Ortiz's daughter at Evans Army Community Hospital, Fort Carson, Colo. The baby was injured in utero when Ortiz was given a medicine to which she was allergic - a condition that had been clearly documented in her medical record. The court did not decide whether to hear the case; the Justice Department settled it in 2016.
'This Was Not a Military Operation'
The odds of the court accepting any case is slim, with roughly 7,000 petitions filed a year, and the justices accepting just 75 to 80 cases. However, a recent development indicates at least one justice, if not more, is taking a closer look at Daniel's circumstances. Walter Daniel filed his petition Oct. 16, and the U.S. Solicitor General, responsible for providing a government brief on the case, waived its right to respond. But the court on Nov. 28 ordered the federal government to provide a formal response, which is due Dec. 28.
Daniel's attorneys would have several weeks to review the government's response and file another briefing; the justices would then meet in conference to decide whether to hear the case.
"This was not a military operation. We are talking about health care," Hoyal said.
The Supreme Court last agreed to hear a Feres case in 1987 - a wrongful death suit filed by the widow of a Coast Guard helicopter pilot who struck the side of a mountain in bad weather shortly after requesting guidance from the Federal Aviation Administration. The court upheld Feres, but in his dissent, Justice Antonin Scalia said Feres should be reconsidered.
"Feres was wrongly decided and heartily deserves the widespread, almost universal criticism it has received," he wrote.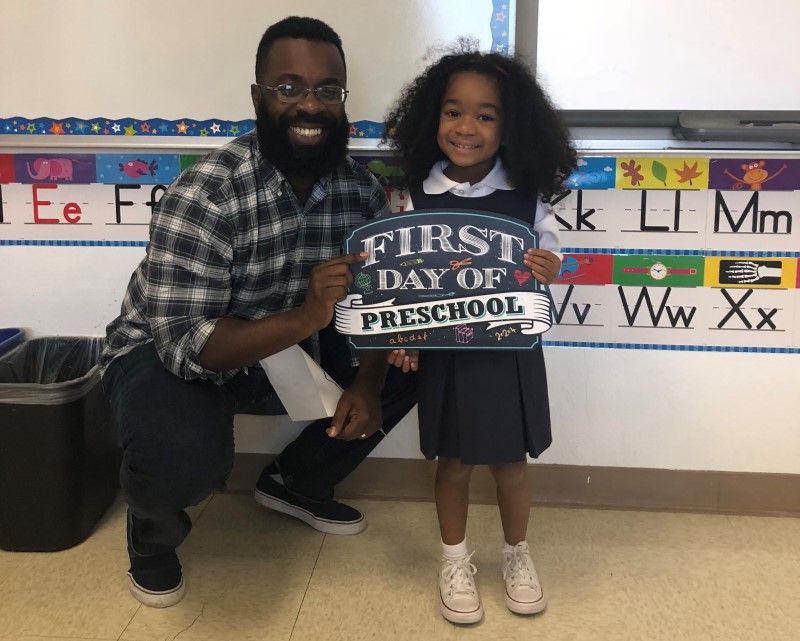 Walter Daniel and daughter Victoria. (Family photo)
Defenders of Feres say that allowing troops to sue for injuries on duty would have negative consequences on health care and benefits. It could make military physicians more cautious - a characteristic not considered favorable under dangerous and stressful battlefield conditions - and it would undermine the military's current compensation benefit, which provides disability payments to injured troops from the Defense and Veterans Affairs departments, officials say.
Hoyal argued that active duty personnel should have the right to file malpractice suits in order to keep the military health system accountable. "The DoD is running a large health system, like a Kaiser Permanente. It is not the same system it had back in the 1950s."