(Updated Oct. 2, 2020)
The fight for this year's Commander-in-Chief's Trophy begins Oct. 3 in Colorado Springs, Colo., when the Navy Midshipmen visit the Air Force Falcons (6 p.m. Eastern, CBS Sports Network).
The round-robin competition between the U.S. Military Academy, U.S. Naval Academy, and U.S. Air Force Academy is a rarity in athletics – a three-team competition with its own hardware, and one that includes an Army-Navy rivalry more familiar to many football fans than the tri-service trophy. And aside from bragging rights, some academy grads may not be up to speed on the rivalry's history, lineage, or trivia.
So, let's fix that. Here are some quick facts to show off at your next alumni outing or tailgate:
1. Off to a late start. Air Force, the youngest of the three academies, graduated its first class in 1959. That was also the first year the Falcons faced the Black Knights, managing a 13-13 tie on Halloween in New York's Yankee Stadium. Air Force first played Navy the following year (the Mids won, 35-3, in Baltimore), but the trophy wasn't awarded until 1972, the first season featuring all three rivalry games.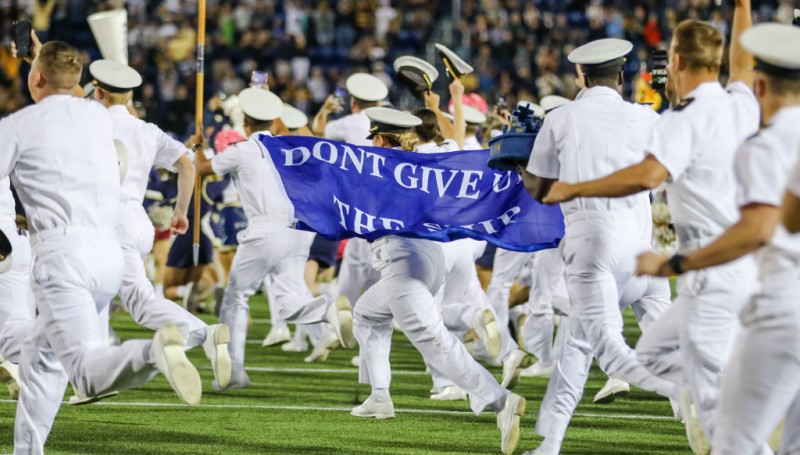 Midshipmen rush the field after Navy's win over Air Force in Annapolis, Md., on Oct. 5, 2019. (Photo by Nicole Fridling/Icon Sportswire via Getty Images)

2. Firsts and lasts. Stand by for stats: Army won the inaugural 1972 trophy, but Navy holds the hardware entering the 2020 season. Air Force has the most annual wins with 20, followed by Navy (16) and Army (8). The teams have tied on the season four times, most recently in 2013. Navy's seven-straight CINC wins from 2003 to 2009 is unmatched, coming during another record run that many West Point grads would rather forget.
3. A heroic start. Lt. Gen. George Simler put forward the idea for the rivalry trophy while serving as the Air Force Academy's athletics director. His service began on a much different field: Commissioned as a second lieutenant in 1942, he flew in two combat tours over Europe, according to his official Air Force biography. He was shot down in 1944 but evaded capture. He would go on to fly combat missions over Vietnam while with Seventh Air Force; his awards included the Distinguished Service Medal with oak leaf cluster, Legion of Merit with oak leaf cluster, Distinguished Flying Cross with oak leaf cluster, and Air Medal with 11 oak leaf clusters. And a Purple Heart.
4. Heavy hardware. The trophy itself checks in at 170 pounds. That's about the playing weight of Glenn Davis, who won the Heisman Trophy at Army in 1946. Both Army and Navy field sprint football teams where each member must be under a 178-pound weight limit.
5. CINC 101. Not much of a football fan? You're still covered: The Commander in Chief's Annual Award for Installation Excellence has been awarded since 1985, when it was established by President Ronald Reagan. This CINC trophy is made of crystal and goes to one installation per DoD service branch, as well as a Defense Logistics Agency installation. Congratulations to this year's winners.
Stay Informed
It's more important than ever to make sure you're in the know and your military benefits are protected.