By Allison Buckholtz
Julie Benson, wife of Army Maj. Bix Benson, describes the first quilt she ever made, back in 2014,with the same passion and vivid detail that other women use when recalling their first love.
But she uses slightly different adjectives.
"It was so ugly!" she recalls. "It was horrible, just a mess. I didn't follow directions and there was no measuring, no precision. I just did my own thing." Benson gave it to her mom, whose sewing machine she'd borrowed to make it.
Then Benson started watching YouTube tutorials and bought professional tools and sturdy fabrics. She trained her eye, honed her craft, and zeroed in on an aesthetic. In 2016, Benson finally made a quilt she was proud of.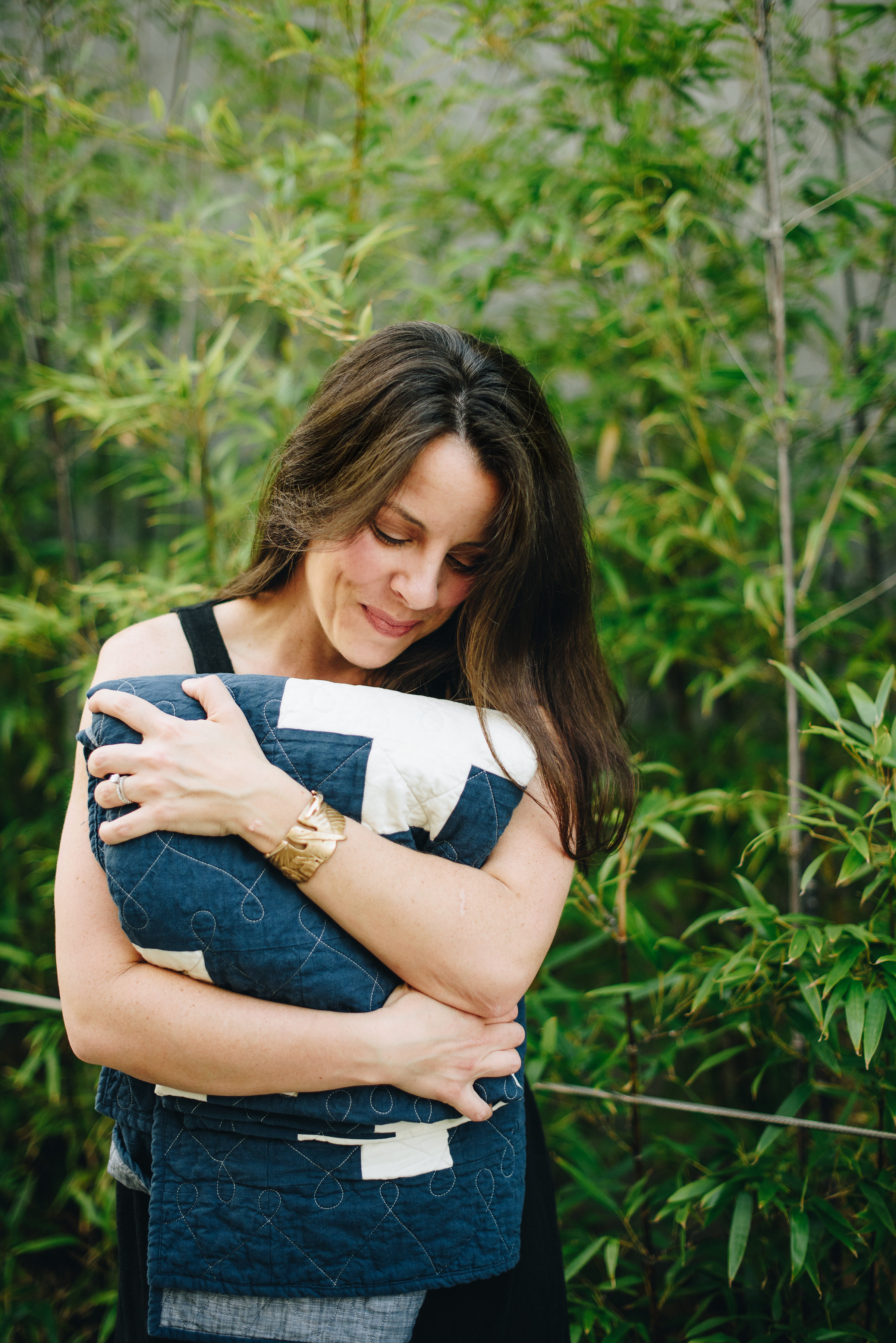 Courtesy Julie Benson


"From then on, I was hooked," she says. "All I wanted to do is make quilts. The whole process spoke to me."
The timing was right for Benson, a registered nurse, to immerse herself in such an all-encompassing hobby because she had decided to stay at home with the couple's one-year-old son. "I'm not a person who can sit still," she admits. "And I loved the reactions I got when I gave the quilts away, especially the baby quilts. I wanted to have that moment over and over."
Pretty soon Benson had sewn more quilts than she could give away. She started donating them to Snowball Express, which distributes blankets to the children of fallen military members and Gold Star Families, and other organizations. But as a stay-at-home mom, she craved connections to beat the isolation that sometimes follows a PCS move.
Benson decided to turn her hobby into a business: hand-crafted quilts by commission only, so she could get to know each client and construct something significant, lasting, and meaningful to them.
The process of creating each one-of-a-kind quilt "was a way to connect with other people on a deep and personal level," says Benson. "It's a true privilege that people are sharing such an intimate piece of themselves with me. Whether it's for a baby, a wedding, or in memory of a parent who has passed away, I get invited into people's most important moments."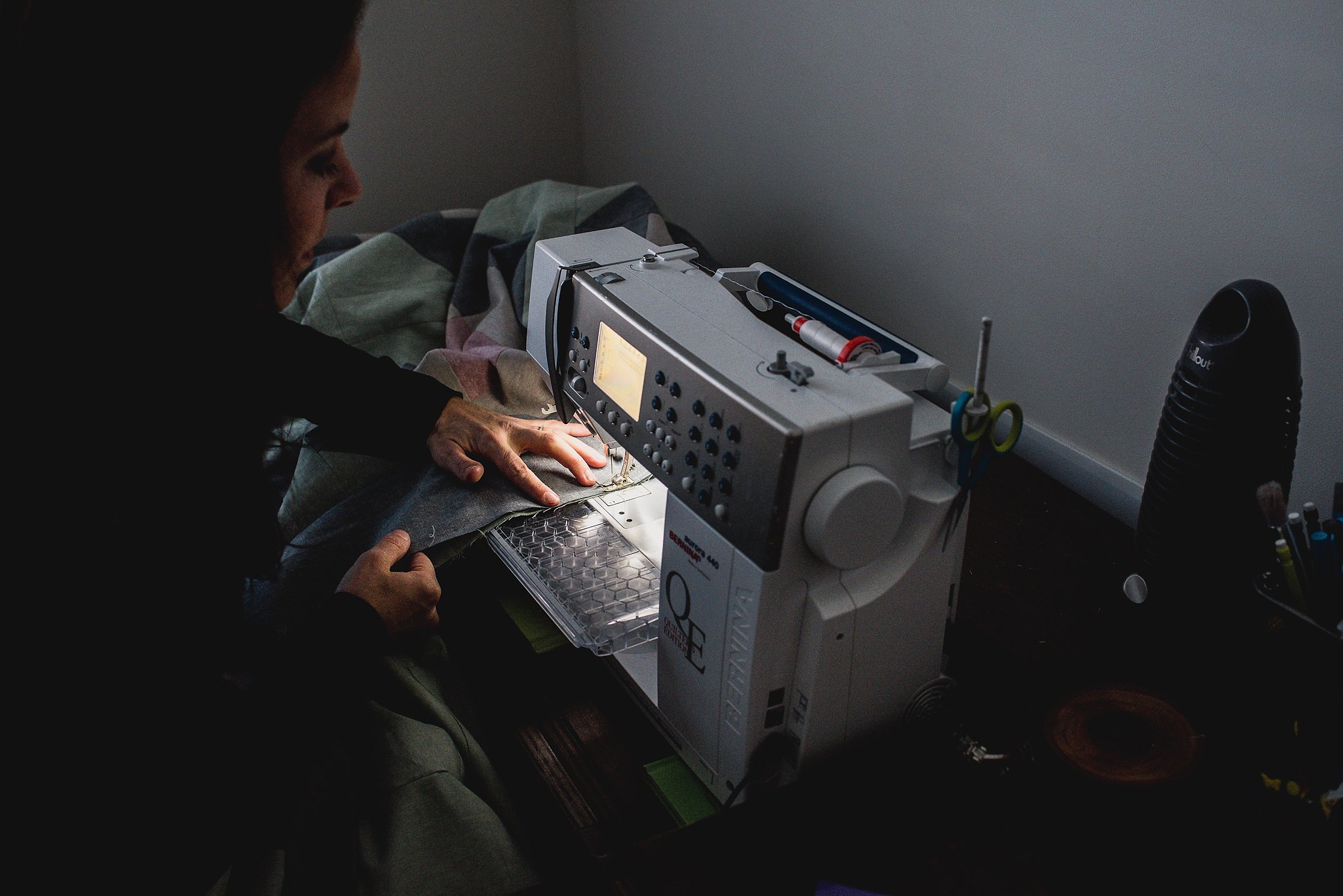 Courtesy Julie Benson

Typically, when a potential client finds Benson through her website or word of mouth, they exchange ideas and discuss a sample that Benson designs just for them. "Making a quilt is a marriage of what the client wants and what I can do," she says. Once it's approved, Benson hunts for the right fabrics. She and the client consult every step of the way until the final delivery.
Then it starts all over again.
Sometimes, though, Benson's creations are even more personal, such as the military-themed gift she designed for her husband four years ago: a quilt-sized rendering of the reversed American flag patch worn in deployment. "I wanted to connect with him by representing his work through quilting," she says. She's also made a patriotically-minded red, white, and blue quilt that she's kept for her family's picnics in the park.
Demand has grown each year since Benson launched her business. In 2018, she made a record 27 quilts-an average of one every two weeks. Typically, her baby quilts cost $175 to $225 and king size quilts cost up to $800. Benson still donates quilts, too. Late last year, she made a quilt for a couple in their 80s who had lost their home in the Northern California wildfire.
Benson hopes to slow down the pace this year, limiting her output to 12 quilt commissions. Half of those slots are already spoken for, though she admits "it's hard to say no" because the requests she receives are so heartfelt. One item that's definitely on Benson's agenda, though, is reworking that first "horrible" quilt from 2014. Benson asked her mom to loan it back so she could improve it, but her mom refused.
"She loves it just as it is," Benson says.