Ten years ago, Douglas Taurel went to the library on a mission to collect letters written by veterans for what he believed would be a one-time passion project with minimal reach.
Since then, the creator of "The American Soldier" one-man show has performed dramatized versions of these letters – some dating back to the Revolutionary War – in 16 cities, and fondly says the show has come to life in a way he couldn't possibly have imagined.
Today, Taurel's taken "The American Soldier" to the Library of Congress, the American Legion national headquarters, an off-Broadway stint, and more. Prior to a Nov. 13 show at The Kennedy Center, Taurel spoke with MOAA about his project and offered tips to transitioning servicemembers about public speaking, entreprenurship, and more transition topics.
Finding Success
As an entrepreneur seasoned at making an impression through countless auditions and performances, Taurel had some practical advice for active duty members making a transition out of the military and into the civilian world.
Transitioning servicemembers shouldn't view preparing for a job interview or big presentation as all that different from military training, Taurel said, adding that "the more exposure you can give yourself to stress, the better you're going to handle with stress."
His suggestion: Do a mock interview with a willing practice partner, and film the experience to seek how to improve reacting under pressure.
"It's not a mental endeavor, it's a physical endeavor" Taurel notes, "There is a real skill of how you say your name and how you walk into a room."
"Practice it like it's a real interview," he said. "When you practice these things you start getting away from your frontal cortex and getting more into the right side hemisphere of the brain, where things become more creative."
The more comfortable you can make yourself in an uncomfortable situation, the better, Taurel said. Soon enough, the skills will become second nature.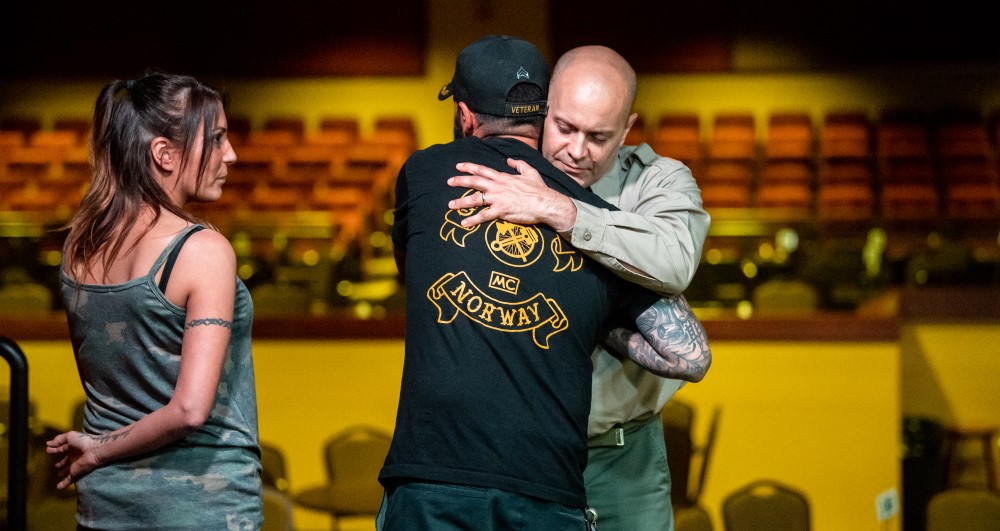 Douglas Taurel frequently meets with audience members after his "American Soldier" performances. (Courtesy photo)
Show Background
"About 12 years ago, when we were heavily in the Middle East, I was reading about vets coming home who were struggling with [post-traumatic stress] or having a hard time paying the bills," Taurel told MOAA. "I thought it was wrong. I wanted to give people a greater understanding of the sacrifices our military personnel make."
He initially faced obstacles when attempting to mount the production, describing its genesis as "a pile of letters no one really knew what to do with." Despite this, the show was eventually accepted into festivals and began playing to extremely responsive audiences.
Touched by the premiere, a Blue Star mother came up to the actor and urged him to keep going. Taurel then realized that the production had something important to share and that it inspired viewers to open up about their own experiences.
"Veterans share their individual stories, and every story is very different." said Taurel, whose television credits include appearances on "Nurse Jackie," "Mr. Robot, "The Affair," and "Blue Bloods," among others. "What's been really amazing and beautiful about this play is that … it brings out brand new stories that no one has ever heard about."
Taurel plans to continue his veteran outreach efforts with Landing Home, a web series. Co-produced with Thomas Edison State University in New Jersey, the series includes 17 veterans in its staff and crew.