Whether you are trying to reconstruct lost records, obtain your DD-214, or view records in person, the National Personnel Records Center (NPRC) is a valuable well of knowledge for past and present military members, families, and history buffs alike.
Below, MOAA has provided some basic guidance on how to use this resource, some helpful web links, and some critical contact information for urgent requests. MOAA Premium and Life Members with further questions on their military benefits may utilize subject-matter experts on MOAA's staff; for more information, please contact our Member Service Center via email (msc@moaa.org) or at 1-800-234-6622.
[RELATED: Dive Into History Through the National Personnel Records Center]
Obtaining Personal Records … for Free
Many veterans are familiar with the NPRC when it comes to obtaining a copy of Form DD-214 or other service records. These documents hold the key to unlocking a myriad of medical benefits, education benefits, VA loans, and more.
Some companies offer services for hire to obtain copies of your DD-214. There is never a need to pay for these documents; they are always free from the NPRC.
If you would like to obtain a copy of your records, you will use a Standard Form 180 or use eVetRecs to get started online.
If you are unable to obtain an SF-180, you may submit a letter to request records. This request must include your full name used during service, your service number or Social Security number, your branch of service, dates of service, and your date and place of birth.
Urgent requests may also be made through the NPRC website. These include documents needed for burials, natural disaster requests, and other emergency requests.
You may check on the status of a request here.
Obtaining Records for Next of Kin
If you are the next of kin requesting to view these records, you must provide proof of death of the veteran, either in the form of a death certificate or a letter from a funeral home and an obituary.
Next of kin may be an un-remarried widow or widower, son, daughter, father, mother, brother, or sister of the deceased.
Access to Awards and Medals
While the NPRC does not issue service medals directly, it can forward a request to the proper military service department, depending on the case. All other requests for medals should be directed to the branch of service.
There is no cost associated with obtaining a replacement medal for the veteran. Next of kin may be subject to a fee dependent upon the branch of service and whether the request involves an archival record.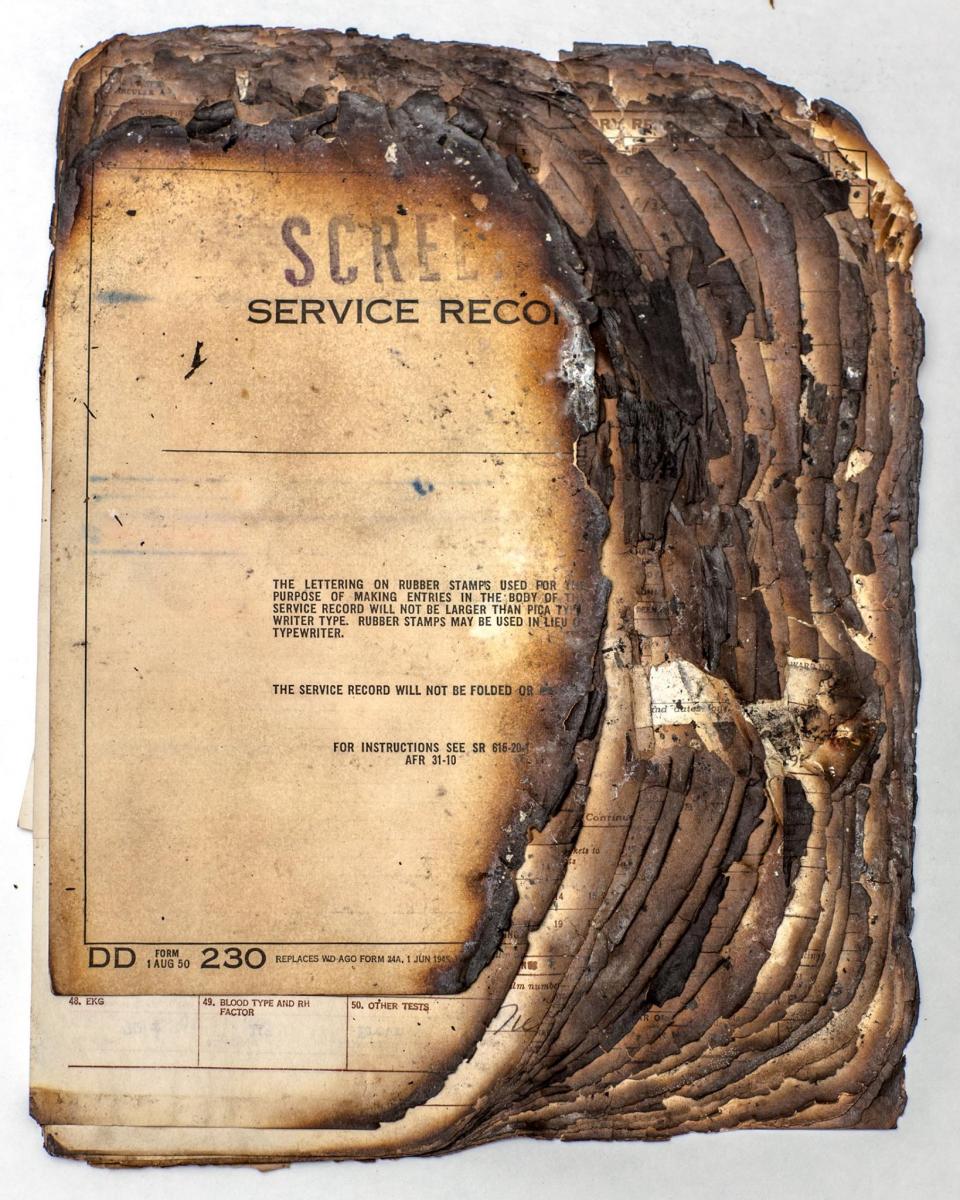 Records burnt from the 1973 fire. (Photo via National Archives)
Records Lost to the Fire
After midnight on July 12, 1973, a fire tore through the sixth floor of the NPRC's military personnel records building in St. Louis. Extinguished after a four-day firefight, the blaze (and the water used to put it out) damaged or destroyed 6.5 million records. These are now referred to as the "B-file," or burned file.
Records affected include those of Army personnel discharged from Nov. 1, 1912 to Jan. 1, 1960 (80% lost) and those of Air Force personnel discharged Sept. 25, 1947, to Jan. 1, 1964, with names alphabetically after Hubbard, James E. (75% lost).
While the original records may no longer be of use, it is possible to reconstruct them using other official documents. If you or someone you know as affected by the fire, you may provide alternative information to reconstruct your records. Keep in mind that requests that require reconstructing records can take up to a month to complete. Alternate records sources include:
VA claims files
Individual state records
Multiple Name Pay Vouchers (MPV)
Selective Service System (SSS) registration records
Pay records from the Government Accounting Office (GAO)
Medical records from military hospitals
Entrance and separation X-rays
Organizational records
Contacting NPRC
To reach the NPRC, you may call (314) 801-0800 or send a request by fax at (314) 801-0764. Due to a large volume of calls, the NPRC warns that hold times are often long. The customer service line is open 7 a.m.-5 p.m. Central time (8 a.m.-6 p.m. Eastern), with peak calling traffic between 10 a.m. and 3 p.m. Central (11 a.m.-4 p.m. Eastern).