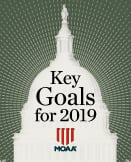 MOAA's top legislative goals for 2019 will be featured in an upcoming edition of Military Officer magazine, which is available to MOAA Life and Premium members. Here's a preview of one key issue; see the links below for the rest, including ways you can make your voice heard.
The Goal: Ensure timely access to service-earned VA benefits.
Background: The veteran population of nearly 22 million is projected to decline in coming years. Demand for VA health care and benefits, however, steadily grows because of the aging and unique demographics of this population.
MOAA's Stance: Major health care and benefit system reforms have been implemented in recent years but require an ongoing commitment and investments to meet demand and ensure timely access. Continuing implementation will pose challenges to fund evolving technologies, infrastructure, electronic health records, full staffing at every echelon, and the various support systems that tie these efforts together. Further, political forces continue to threaten or erode the core VA health and benefit missions and foundational services.
Actions: Oppose efforts to use veterans' disability benefits compensation or other benefits to pay for VA system improvements and diminish or restrict access to service-earned benefits. Press DoD and the VA to achieve true interoperability of electronic medical, personnel, and benefits records to improve medical outcomes and delivery of benefits. Mandate DoD and the VA to develop protocols and establish a mechanism to address service-connected illnesses and environmental exposures and institute a framework for managing toxic exposures that might happen in the future.
[TAKE ACTION: Visit MOAA's Legislative Action Center]
More key goals: