More than seven decades after World War II veteran James "Maggie" Megellas single-handedly wiped out a German tank with grenades during the Battle of the Bulge, efforts are being renewed to present him with the Medal of Honor.
Legislation introduced early in the new session in both houses of Congress would authorize President Donald Trump to present the nation's highest military honor to Megellas, a 102-year-old Life Member of MOAA and retired Army lieutenant colonel. Already known as the most decorated officer in the history of the 82nd Airborne Division, Megellas has received the Distinguished Service Cross, two Silver Stars, two Bronze Stars, and two Purple Hearts.
The Medal of Honor was recommended for Megellas in 1945, shortly after his actions during the Battle of the Bulge, but documentation from the battle was not considered, leaving the honor in limbo.
Nevertheless, Megellas said the most important recognition he received is the respect of his colleagues.
"I have all my buddies - and thousands of them - that still recognize what I did," Megellas told MOAA via telephone from his home in Texas. "In one sense, I've received many of the benefits of the medal, which is the approval of my buddies that I fought with."
Megellas said he is honored and flattered to again be considered for the medal. Previous legislative attempts to secure the award, dating back more than a decade, have not been successful.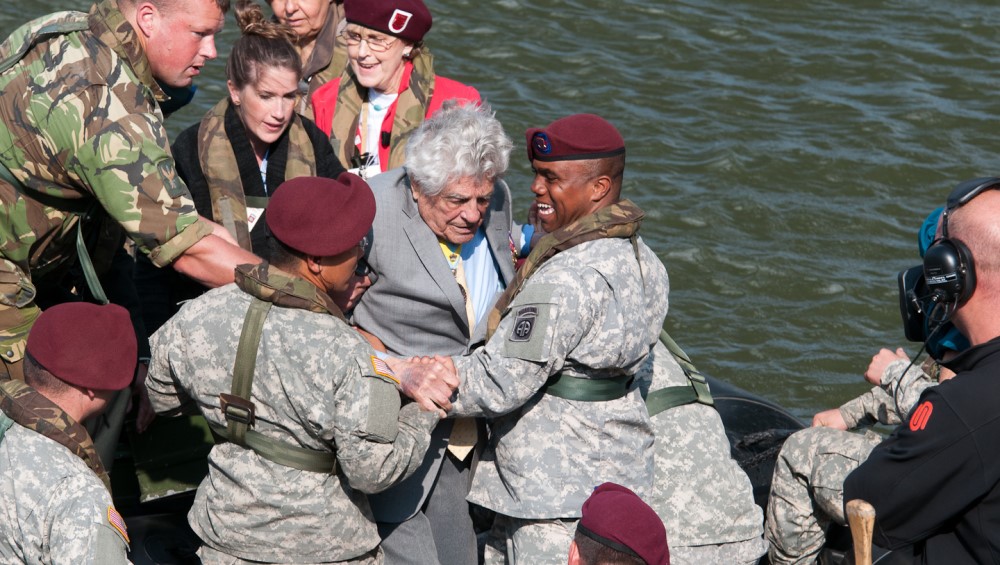 82nd Airborne Division paratroopers help World War II veteran James "Maggie" Megellas into an assault boat, Sept. 21, 2014, in Nijmegen, Netherlands, as part of a re-enactment of the crossing of the Waal River that took place during Operation Market Garden in World War II. Megellas parachuted into the Netherlands during the 1944 operation and crossed the river with his troops while under heavy machine gunfire. (Staff Sgt. Mary S. Katzenberger/Army)

An Act of Valor
The snow was waist-deep in Belgium on Jan. 28, 1945, when Megellas, a young lieutenant in the Army, was ordered to rush his platoon into the Battle of the Bulge.
The platoon advanced toward Herresbach, Belgium, surprising about 200 Germans who were moving out of the town. A German tank took aim at the Americans, according to reports.
Megellas ran toward the tank, disabling it with a single grenade, according to reports. He climbed on top of the tank and dropped another grenade inside.
Megellas led the platoon as they cleared the town.
"Town in our hands; Approximately 100 dead Krauts and about 100 PW's [Prisoners of War]. PW's still coming in. We have no causalities," according to a 1945 after-action report from Megellas's unit, the 504th Parachute Infantry Regiment.
As Megellas reflects on his service, he said he feels proud to be part of a mission that had a greater purpose than his own being.
He remembers liberating a concentration camp and hearing heavy machine gun fire as he crossed the Waal River in the Netherlands.
"We knew we were fighting for a cause greater than ourselves," Megellas said. "Now all of us in the service fight for a cause, but we volunteer. The paratroopers, you're volunteering because you believe in a cause. Our mission was, after we had seen the concentration camp, we realized that our mission was to eradicate the Nazi effort."
That's advice Megellas continues to pass on to military officers: Remember you are part of a bigger mission.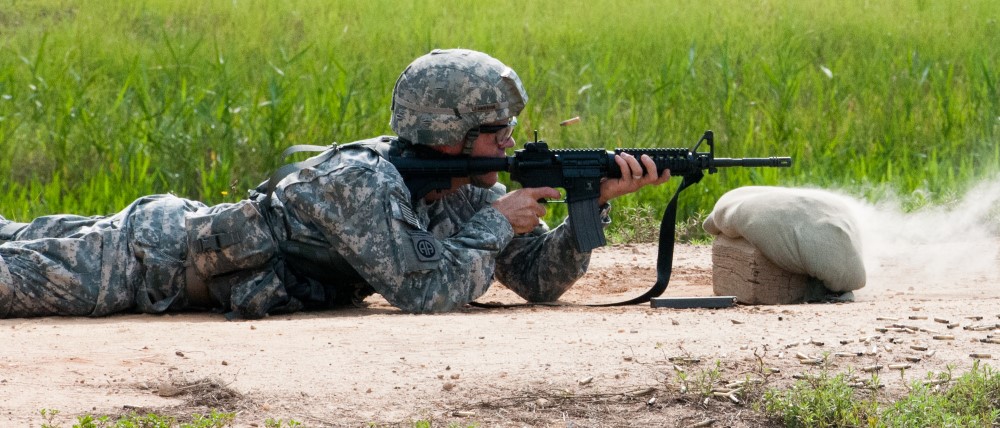 A paratrooper with the 82nd Airborne Division takes part in the weapon qualification phase of the Towle/Megellas Competition on Fort Bragg, N.C., in 2013. The four-day contest pays tribute to World War II veterans James "Maggie" Megellas and Pvt. John R. Towle, who both served in the 82nd. (Staff Sgt. Mary S. Katzenberger/Army)

In March, Megellas will celebrate his 103rd birthday.
Some aches have come with age, but Megellas continues to speak to people about his experiences. He doesn't have any secrets for his long life; rather, he believes he's been called to accomplish a greater mission - sharing his experiences with troops and other people.
He's been to Afghanistan to speak with troops, and recently returned to Fort Bragg to visit members of 82nd Airborne.
"I believe the Lord placed you and me on this Earth for a purpose," he said.
Rep. Glenn Grothman, a Republican from Megellas' former home state of Wisconsin, introduced House legislation Jan. 3 to upgrade Megellas' Distinguished Service Cross to the Medal of Honor. Sen. Ron Johnson (R-Wis.) introduced similar legislation Jan. 10 in the Senate.
Grothman told MOAA that he hopes people will understand and appreciate Megellas' heroic actions.
"We live very well in America today and I think it's important for people to realize what other people went through," Grothman said. "I think his behavior was instrumental in the U.S. and allies winning the Battle of the Bulge. Obviously, so much bravery."
Amanda Dolasinski is MOAA's staff writer. She can be reached at amandad@moaa.org. Follow her on Twitter @AmandaMOAA.