Rear Adm. Harley Nygren, who was instrumental in forming the National Oceanic and Atmospheric Administration and served as the first director of its Commissioned Corps, died Nov. 17. He was 94.
Nygren, an icon in coast mapping and geodetic surveying, retired in 1981 after 37 years of government service. A MOAA Life Member and a member of MOAA's Lancaster (Pa.) Chapter, his work touched countless lives, including meteorologists studying weather patterns at the National Hurricane Center he helped establish and astronauts traveling home using tracking infrastructure he helped build.
Rear Adm. Michael J. Silah, director of NOAA Corps and the NOAA Office of Marine and Aviation Operations, said Nygren was an honorable man who served faithfully.
"Rear Adm. Nygren embodied the NOAA Corps values of honor, respect, and commitment," he said. "His lifetime of dedicated service to the nation and visionary leadership continue to inspire us."
Matthew Nygren, the youngest of six children, recalled his father as a man of quiet faith, devoted to his family who instilled the importance of taking care of oneself. He spent a lot of time away at sea, but when he was home, Nygren was usually in the basement with his children showing them how to cut wood.
"All we ever got for Christmas and birthdays was tools," said Matthew Nygren, chuckling. "We spent a lot of time together building, making and fixing things. Time and skills that we got from our father were priceless, really. Dad taught us a lot of great things. My brothers and I have all benefitted from being the sons of an engineer."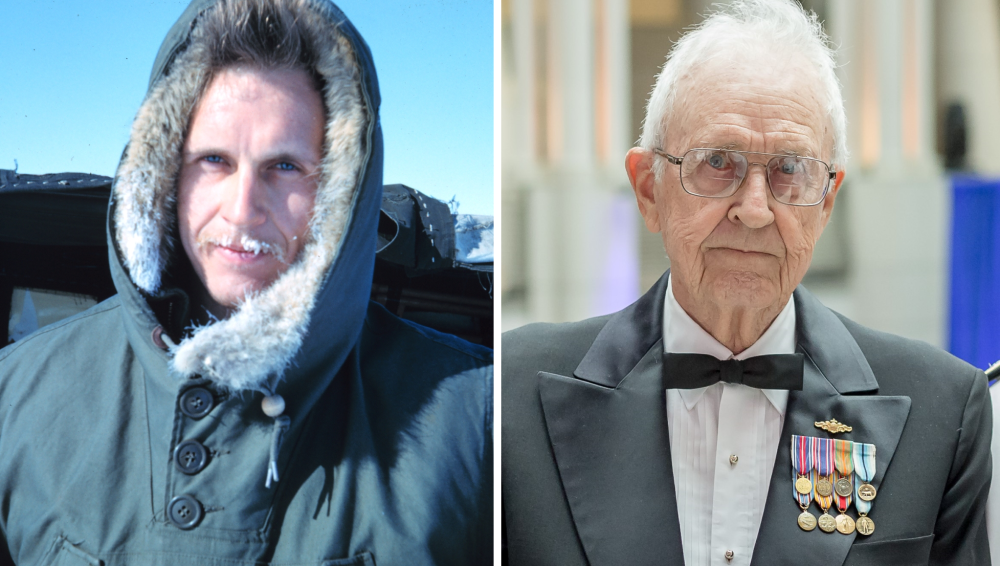 Harley Nygren on Alaska's North Slope in 1950, left, and at the NOAA Corps' Centennial Celebration in 2017, right. (NOAA photos)
Nygren, born in Seattle, was commissioned into the Navy in December 1945 and served aboard USS Hughes (DD-410), where he prepared the ship for atomic bomb tests at Bikini Atoll. He later resigned his commission to join the United States Coast and Geodetic Survey, where he served aboard scientific vessels.
Nygren's geodetic career took him on field parties and aboard survey ships to Alaska, Antarctica, the International Hydrographic Bureau in Monaco, and the World Meteorological Organization in Geneva, Switzerland.
During the space race, Nygren was regarded as one of the country's best cartographers and called to serve as the head surveyor of a team that built tracking infrastructure for space stations. His team constructed tracking stations that could send and receive radar signals and triangulate locations to guide spacecraft in the Gemini and Apollo programs.
On a trip for the State Department, Nygren was assigned as an observer with a British team conducting an Antarctic survey on the research ship Shackleton. Years later, Nygren learned a mountain in that region had been named in his honor and chuckled about it, assuming "Old Man of the Shackleton must have done that," Matthew Nygren remembered his father saying of the ship's captain.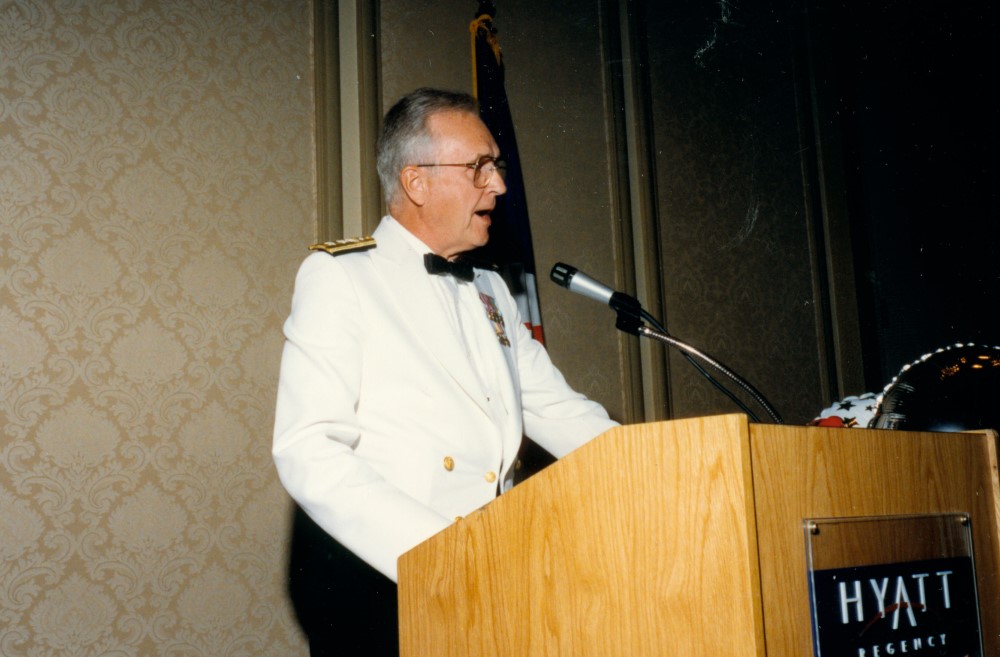 Rear Adm. Harley Nygren speaks during a NOAA Corps event in 1992. (NOAA photo)
In 1965, he was called to Washington, D.C., to help reorganize the Coast and Geodetic Survey, which became the Environmental Science Service Administration; he was appointed its associate director by President Lyndon B. Johnson. The administration was again reorganized, and President Richard Nixon appointed Nygren as the director of the new the National Oceanic and Atmospheric Administration.
"Dad loved his career," Matthew Nygren said. "As important of a career as he had, he would tell you, 'All I did was follow my passion.'"
Officers in today's NOAA Corps have benefitted from work started by Nygren decades ago.
Nygren was known as a regular in the halls of Congress, fighting for the existence of the corps when it was on the political chopping block. He helped established the National Hurricane Center in Florida, and was thanked with a ride into the eye of a hurricane meteorologists were chasing at the time.
Nygren was the first commander of any of the seven uniformed branches to lift restrictions on women in certain jobs. He said there was no reason every job could not be open to women, and began recruiting women on the same basis as men.
"His scientific work is just so voluminous," Matthew Nygren said. "The scope and breadth of the great scientific work that they did while he was shipboard and then director is just really impressive. He was all over the world doing stuff that mattered."