Maj. Gen. William Walker, a Life Member of MOAA who has served 36 years in an Army uniform – including his current post as the commanding general of the D.C. National Guard – has been tapped as the next House sergeant-at-arms.
In the role, Walker will be the top law enforcement officer of the House, responsible for the security on the House side of the Capitol complex. If confirmed by a majority vote in the House, Walker would become the first Black American in the chamber's 232-year history to hold the position.
"I am honored and excited for the opportunity to continue to serve this great nation," Walker told Military Officer on March 30.
Walker served as a special agent with the Drug Enforcement Administration alongside his National Guard duties for three decades, he said. His service includes a 2011-12 deployment to Afghanistan, where he served as the senior military strategist for the U.S. Embassy in Kabul.
Walker took over as acting commander of the D.C. National Guard on Jan. 20, 2017, and was officially named to the position the following year.
Walker's experience will be an "important asset" to the House, said House Speaker Nancy Pelosi, D-Calif., who selected him for the position.
"Throughout his long, dedicated career in public service, Gen. William Walker has proven to be a leader of great integrity and experience who will bring his steady and patriotic leadership to this vital role," Pelosi said in a statement.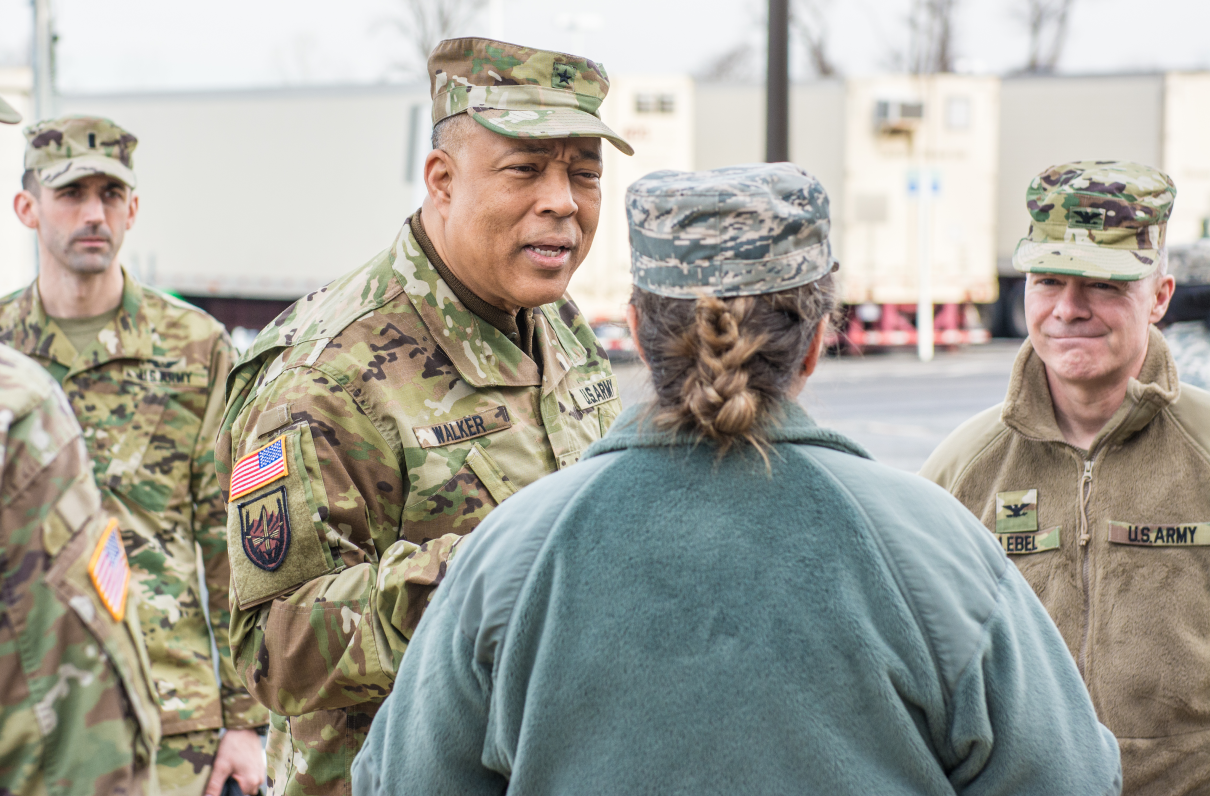 Then-Brig. Gen. William Walker, head of the D.C. National Guard, visits soldiers and airmen staying at FedEx Field in support of the 58th Presidential Inauguration in 2017. (Photo by Sgt. Patrick P. Evenson/National Guard)
'Get Everybody Ready'
In an interview with Military Officer the day before he was tapped for the House position, Walker discussed his role as D.C. National Guard commander during the events at the U.S. Capitol on Jan. 6, among other topics. He recalled assessing how his troops would converge on the Capitol complex to restore order as protestors broke past police and wandered the halls.
"My reaction was, get everybody ready, we are inevitably going to be there and we're going to make a difference upon arrival," Walker told Military Officer. "I was waiting for the green light, the go, if you will, but I knew with no fear of contradiction that we would be part of the support. So we were ready and we eventually were authorized to go … and help restore order and move the mob, the protestors, from the side of the Capitol complex."
The assignment started with about 300 troops from the National Guard on Jan. 6 and grew to more than 26,000 troops from every state and territory by the end of the month. All moved under the command of Walker.
The attack followed months of contentious protests over racial injustice, many of which occurred blocks from the Capitol complex and required National Guard soldiers to respond to restore peace. The protests were organized after the death of George Floyd, a black man killed by a white police officer in Minneapolis in May 2020.
The protests hit close to home for some soldiers in the National Guard, which has a rich history of service of Black soldiers dating to the Battles of Lexington and Concord during the Revolutionary War. Walker, one of the Army's few Black generals, strived to be empathetic.
"I was out there with my Guardsmen – Army and Air," Walker said. "I stood on the line with them. And when they came back, I welcomed them back to the Armory. Some of them had eggs thrown on them. Urine thrown on them. We had six injured. One concussion. So I was there and talked to them and we set up a 24-hour hotline where they could call and talk to a chaplain and behavioral health specialists."
[RELATED: National Guard Members on DC Protection Mission Get Credit Toward GI Bill Benefits]
Walker was a steady presence for his troops – especially on the nights that would challenge the mental fortitude of Guard members. He reflects on his troops' response with pride, noting the tradition of a diverse cadre of National Guard soldiers who have stood ready.
"Black soldiers have answered the call and have served with great valor and distinction," Walker said.
"And I just don't want to limit this … there were white soldiers and airmen distressed by what they saw happen to George Floyd and then what they were asked to do. The empathy was with the National Guard – white, Black, Hispanic, Asian. … Everybody was asked to do a tough job and they did it professionally with a high degree of discipline and restraint. They were provoked. There were professional provocateurs out there. They stood a line, did not harm any protestor who had a right to peaceful assembly. As long as they did it peacefully, we were there to ensure it was peaceful and they didn't cross a line."
Premium and Life members can read more of Walker's interview in an upcoming issue of Military Officer.
Being an Officer Isn't Always Easy. Getting Advice from One Is.
We've filmed some of the 350,000 members of our community speaking about the issues they've faced over the years. See the latest from our Officer to Officer series.