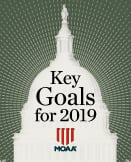 MOAA's top legislative goals for 2019 will be featured in an upcoming edition of Military Officer magazine, which is available to MOAA Life and Premium members. Here's a preview of one key issue; see the links below for the rest, including ways you can make your voice heard.
The Goal: Prevent disproportional TRICARE fee increases.
Background: The Congressional Budget Office (CBO) recently introduced, as a potential option, TRICARE for Life enrollment fees and minimum out-of-pocket requirements as ways the federal budget could escape red ink. Independent of the CBO report (PDF), DoD and Congress have stated retiree health care costs are spiraling out of control, and beneficiaries do not pay enough for their health care. Based on DoD's own data, MOAA knows this is not true - the difference is attributable to rising institutional and readiness costs. Despite that, the report and the ongoing budget pressure have turned TRICARE For Life into a potential target for fee increases to offset readiness or other programs.
MOAA's Stance: Military retirees, through their service and sacrifice, have paid in full for their TRICARE For Life benefits. Congress - not DoD - should determine appropriate TRICARE fees.
Actions: Reverse or significantly decrease the 2018 TRICARE Prime copayment increases for grandfathered/Group-A beneficiaries. Modify fee structure to reduce out-of-pocket costs for successive specialty appointments, such as physical therapy or mental health care. Protect TRICARE For Life as a second payer to Medicare Part B.
[TAKE ACTION: Visit MOAA's Legislative Action Center]
More key goals: