The VA is striving to take better care of women, the fastest growing veteran demographic.
In its latest effort, the VA signed a five-year contract with the University of South Florida's Center for Advanced Medical Learning and Simulation (CAMLS) for a mini-residency program in women's health care. About 250 physicians from VA centers all over the country attended the simulation-based education and training residency.
"We hope that women veterans hear they are welcome at the VA and we want to care for them," said Christine Kolehmainen, director of Women's Health Education for the Office of Patient Care Services at the Veterans Health Administration (VHA).
The number of women entering the military has been growing for the past 30 years, Kolehmainen said. The VA reached a milestone in 2008, when the department's Women's Health Services created a handbook with policies of how care should be delivered to women.
The VA undoubtedly has become more attuned to women's needs, said René Campos, USN (Ret), MOAA's senior director of government relations for veterans-wounded warrior care, yet the department has difficulty keeping pace with the growing number of women veterans. Each year, MOAA testifies to a joint House and Senate Veterans Affairs Committee hearing with recommendations on improving women's health care.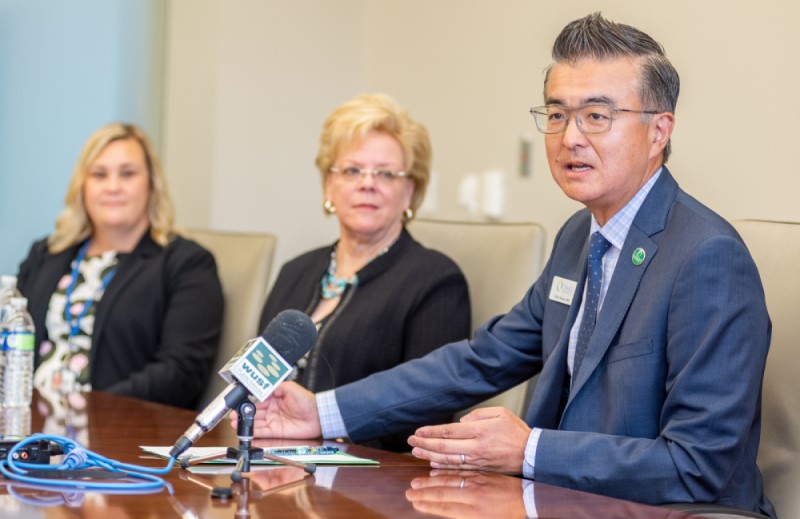 Dr. Haru Okuda, executive director of the University of South Florida's Center for Advanced Medical Learning and Simulation, shares details about the mini-residency program. (Photo courtesy of USF Health)

"For a number of years, MOAA has worked closely with VA and with Congress to address the health care needs of the growing population of women joining the military so the Veterans Health Administration will be prepared to meet the demand for care once they leave service," Campos said.
MOAA's efforts on the issue include:
The VA has taken steps to ensure women feel welcome and safe, Campos said. Among those steps, the VA has more events to introduce and educate women to available services, retrofitted and built centers for women's health care, increased health research and increased access to mental health and military sexual trauma services. By 2025, the VA will serve more than 500,000 women – or about 10% of its patients. That's up from about 8% in 2018, according to the department.
"These physicians and nurses have been practicing for 20 years, yet have traditionally cared for World War II veterans and men," said Dr. Haru Okuda, executive director of CAMLS. "So there's potentially a skills gap. This is set up to make sure all of those physicians are up to the current and future standards."
The three-day mini-residency program helps medical staff refresh their skills while also demonstrating new techniques. It started as a regional training program in 2007 and expanded into a national program. Leaders have said finding a long-term home at USF will ensure training consistency.
The program, which will be offered twice a year, includes lectures and hands-on examination practice. Physicians are trained to ask specific questions to learn about stress related to leaving service, look for signs of trauma related to sexual assault, and identify early signs of osteoporosis from carrying heavy equipment while in uniform.
The program also includes trained actors who serve as patients for mock examinations. They take notes and provide feedback to physicians and nurses, paying special attention to mannerisms that might make a woman uncomfortable — if the physician doesn't close a privacy curtain, for example, or says something offensive.
Just as the program ensures women patients receive high quality care, it builds confidence in the physicians' abilities, who typically work in emergency rooms or primary care, program officials said.
"I think it's extremely significant," said Okuda, who spent about seven years as a medical director for the VA and established its first simulation program in Orlando. "If a woman veteran goes to any VA or non-VA health facility and doesn't feel comfortable because of a lack of knowledge, or if a physician doesn't understand or isn't sensitive to the type of medical conditions or psychological conditions, they won't ask follow-up questions. They're losing a lot of health care opportunities, like referrals to psychologists, and it will be a very superficial conversation and they won't get the help they need."
The VA has made other efforts to become more attuned to women's needs, including hiring more gynecologists and expanding education to include specialty care. Last year, the VA launched a pilot program in collaboration with services for a women-specific Transition Assistance Program, including a tour of a VA hospital to better understand clinics and services.
Amanda Dolasinski is MOAA's staff writer. She can be reached at amandad@moaa.org. Follow her on Twitter @AmandaMOAA.