The four-legged heroes of the military who fearlessly sniff out bombs and search desolate mountaintops for terrorists have earned a spot alongside some of the county's other most prestigious figures – on Forever stamps.
Military working dogs are being honored for their contributions through Forever stamps released by the U.S. Postal Service last month. The stamps feature a stylized, geometric illustration of the military's most popular canines – German shepherd, Labrador retriever, Dutch shepherd, and Belgian Malinois.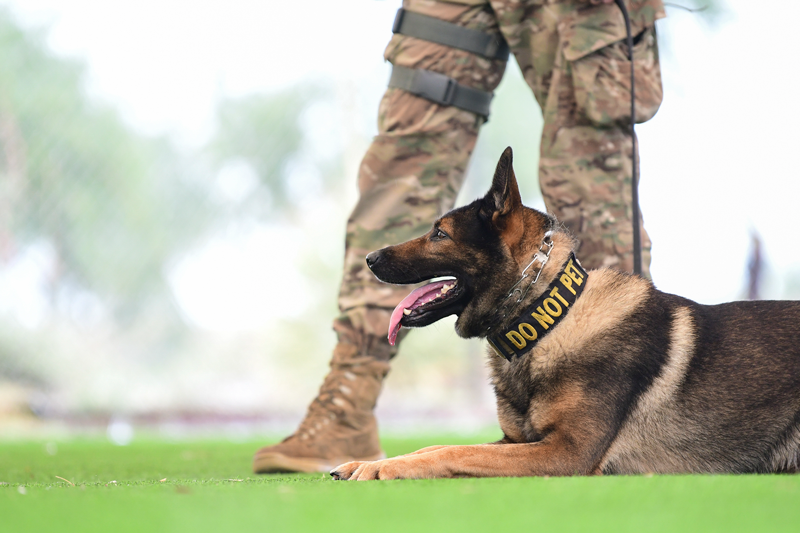 (U.S. Air Force photo by Airman 1st Class Kristine Legate)
"The fact that there's a stamp solely dedicated to military working dogs, it's a proud moment for us," said Air Force Master Sgt. Steven Kaun, the top canine police officer for the Air Force who worked with the Post Office to coordinate material. "It's very rewarding to receive this recognition. It's a long time coming, especially this late in the war effort."
Canine military service is traced back to the Civil War. In recent times, dogs have deployed with their handlers to Iraq, Afghanistan, and all over the world for drug and explosive detection, searches for people, and specialized mission functions. A Belgian Malinois named Cairo famously accompanied Navy SEAL Team Six on its mission to find Osama bin Laden.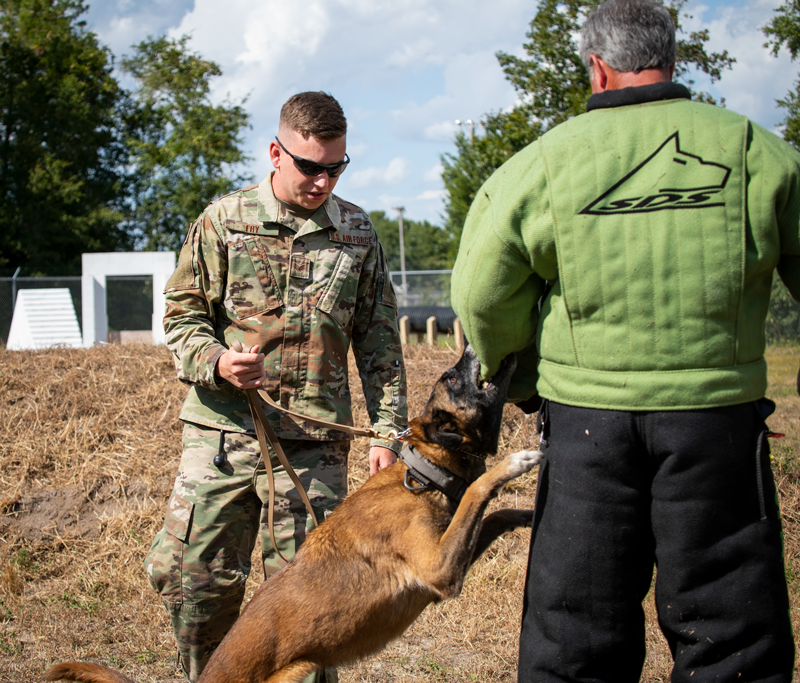 (U.S. Air Force photo/Samuel King Jr.)
Military working dogs are used by each branch of the armed forces, though all military working dogs used by the Defense Department are trained by personnel of the Air Force's 341st Training Squadron at Joint Base San Antonio, Texas.
Kaun, program manager for the Air Force's Military Working Dog Program, worked with five dogs in his 14-year career as a dog handler. Gitta, a German shepherd, had the best nose of all his dogs, he said.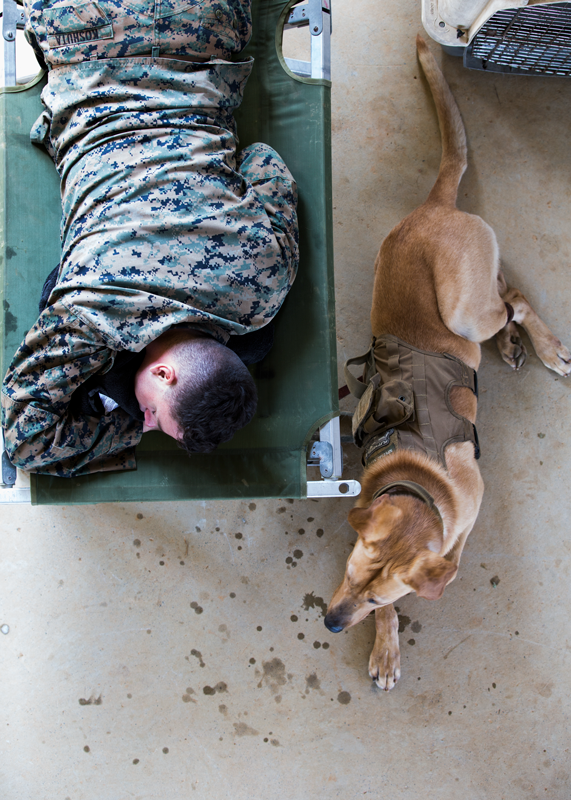 (U.S. Marine Corps photo by Lance Cpl. Andrew R. Bray)
In 2008, Kaun and Gitta were on their first deployment when they were requested for a mission in Afghanistan. On the way to the mission location, the Route Clearance Patrol convoy they were riding with stopped to investigate a roadside bomb trigger site.
The explosive ordnance technicians used C-4 to destroy the trigger site, but couldn't locate the buried bomb. A bulldozer crew dug around an area just northeast of the road, but didn't find anything.
As a last ditch effort, Gitta was set loose to investigate.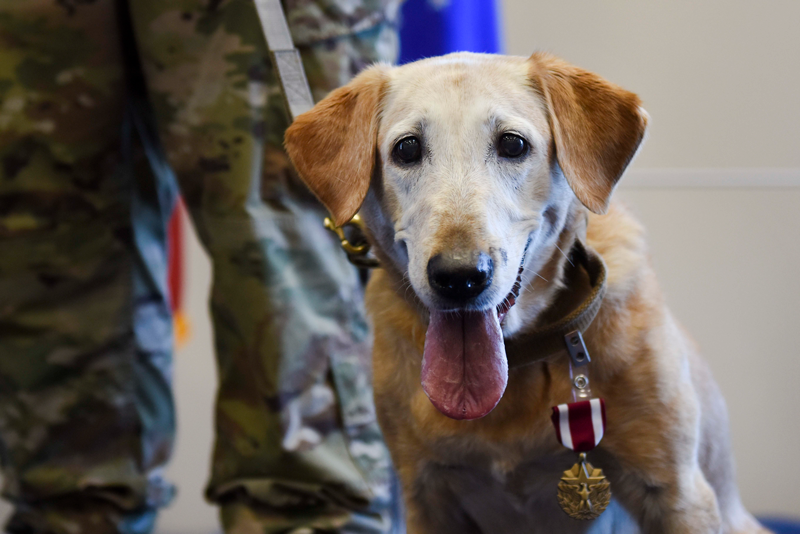 (U.S. Air Force photo by Staff Sgt. Joshua Magbanua)
Despite the overwhelming scent of the detonated C-4, Gitta circled an area a little further south of where the bulldozer crew had been and fixed her gaze down.
Kaun called her back so an EOD technician could work. In a few minutes, the technician pulled an anti-tank mine from the ground.
"Had we not found that, we would have had 20 vehicles driving over it," Kaun said. "The guys on the squad came up to me after and were thanking me. For my dog to be that good, that was the vote of confidence. I had 100% trust in her."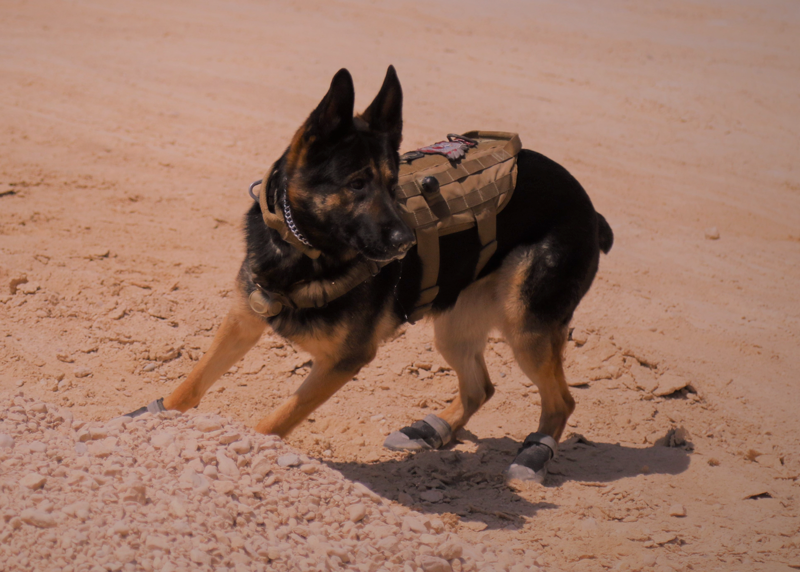 (U.S. Army Photo by Sgt. 1st Class Tracy Korff)
To celebrate the new stamps, Kaun made a few purchases for himself and donated items to the 341st Training Squadron schoolhouse in Texas.
"I have bought every single thing that's available," he said. "I spent like $300."
The stamps were created by a combination of hand sketching and a computer program to infuse the patriotic color scheme. The stamps are available for purchase online, by phone at 800-782-6724, or at any Post Office location.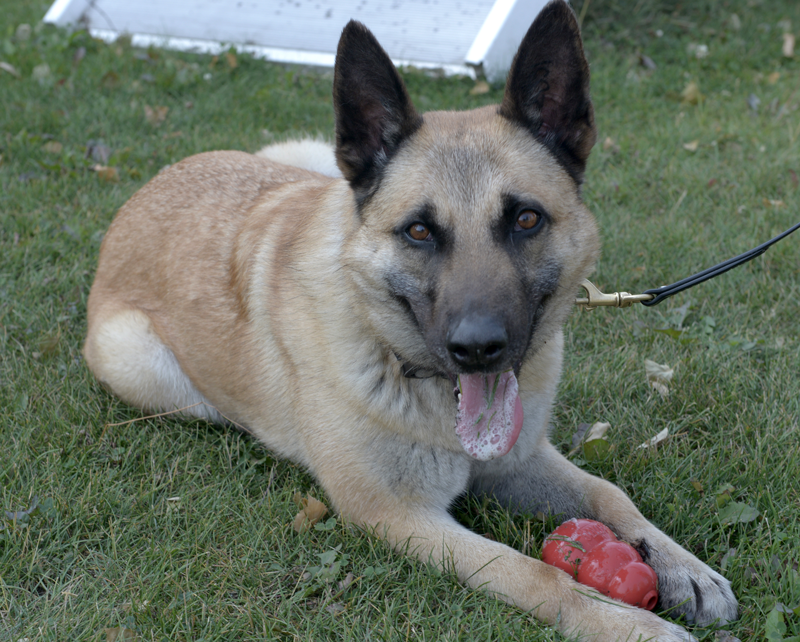 (U.S. Air Forcy photo by Airman 1st Class Emily Farnsworth)