CAPT Frank M. Murphy, USN (16 August 1918 - 14 June 1996)
He completed his undergraduate degree at Georgetown University.
July 17, 1941. He married Lorraine in Honolulu, Hawaii where he was Commanding Officer of a Destroyer/Minesweeper. His crew received the Meritorious Unit Citation for their action in Leyte Gulf in 1945. They destroyed many kamikazes which had sunk 3 destroyers. Lieutenant Murphy and his crew rescued 167 survivors and took them to larger ships.
In August, 1945 he received orders to attend Post-graduate school at the U.S. Naval Academy where he earned an engineering degree. In 1948, he was assigned as naval attaché to Poland for 3 years while that country was still under Communist rule.
Frank Murphy had a natural gift to learn languages - he spoke Polish, German, and French and was taking Classical Greek at George Washington University when died. He had also earned a master's degree in History from the University of Maryland/Catholic University, and a master's degree in Administrative Engineering from George Washington University. He earned a degree from the London School of Economics while stationed there. He loved learning!
Mrs. Lorraine Murphy (16 May 1918 - 2 April 2014)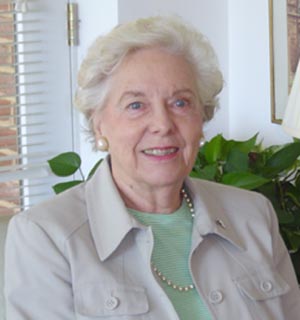 Lorraine was born in Castleton, North Dakota. She graduated from Interstate Business College in Fargo, North Dakota. She also attended Sir John Cass School of the Arts in London. She worked for Meridian International for 25 years. Both she and her husband retired together at age 70 and began competitive swimming in the senior's league with the DC Masters.