COL Joe M. Dietzel, Sr., USA-Ret.
16 May 1915 – 3 July 1997
and
Mrs. Frances C. Dietzel
30 January 1917 – 18 May 2002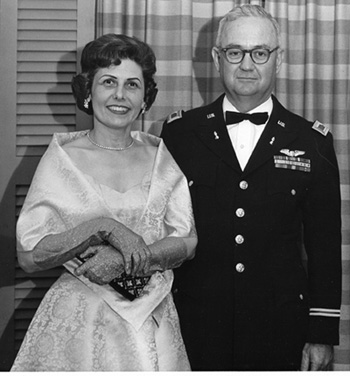 Joe Melvin Dietzel, Sr. was born on May 16, 1915 to Herman Dietzel, Jr. and Mary Ellen Harris Dietzel in Union City, Tennessee. He was the second son and second oldest of five children. He grew up on the family farm and attended the public schools in Union City. He graduated from Union City High School in 1934. Following high school graduation, he attended Louisiana State University (LSU) where he majored in mechanical engineering. When the Thompson Act allowed Reserve Officer Training Corps cadets to be commissioned in the Army prior to graduation, he applied and was commissioned on May 17th 1939 in the Army as a Field Artillery 2nd Lieutenant.
Following an assignment at the Field Artillery School at Fort Sill, Oklahoma, he was assigned to the 77th Infantry Division at Fort Jackson, South Carolina. The division was initially to deploy to the European Theater of Operations. Consequently, the training program reflected that future mission. The division moved from Fort Jackson to Many, Louisiana to participate in the Louisiana Maneuvers. It then moved to Camp Hyder, Arizona for desert training, then to Camp Pickett, Virginia. While at Camp Pickett, the division's deployment was changed to the Pacific Theater of Operations. The division saw combat on Guam, Leyte, and Okinawa. During the combat operations, Joe was wounded twice.
Prior to the division's deployment, Joe met Frances Rebekah Caldwell at Fort Bragg, North Carolina. She was the only child of Michael Frances Caldwell and Viola Edwards Caldwell of Lumberton, North Carolina. She graduated from Lumberton High School and then briefly attended the Woman's College of the University of North Carolina. She then attended Washington School for Secretaries in Washington, DC before returning to Lumberton. They were married on March 18, 1942 in her parent's home.
For the next 27 years they moved frequently within the United States and overseas as Joe held various positions of increasing responsibility. Also during this time they raised a family of four sons. The family experienced firsthand the challenges military families face relocating during a school year. In spite of these challenges, all the sons achieved the college degree that had eluded their parents.
In 1969 Joe retired and he and Frances moved into her parent's house in Lumberton. There he became involved in community service work for the Methodist Church and the town. Frances became deeply involved with the Daughters of the American Revolution. She became the North Carolina State Regent and later served as a Vice-president General in the national organization. In March 1992, they celebrated their Golden Anniversary with family and many friends in Lumberton.
Joe died on July 3, 1997 and Frances died on May 18, 2002.
This scholarship was created to commemorate their lives and to recognize service children who successfully overcame the challenges of service life and display outstanding academic and character achievement.