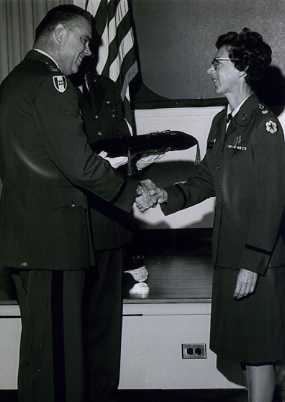 Medical Auditorium Madigan General Hospital - Beatrice E. Thompson is presented the Bronze Star on September 23, 1970.

Beatrice E. Thompson was born in Albany, Oregon. Her Father was in the U.S. Navy. He retired from the Navy in 1943 with the rate of Chief Quartermaster. When his assignments dictated that the family could not be with him, her Mother, Sister, and Beatrice would return to Albany to live with her grandparents, Rev. and Mrs. Wallace Howe Lee. Beatrice's mother, Helen Lee Thompson, was born in Albany, Oregon on January 16, 1896. Helen's father was on the faculty and later became the president of Albany College. Helen taught until December 1924, when she married Joel Thompson.

Beatrice graduated from Oregon State College (now University) in 1948 with a major in Human Biology and minors in Physical Education and Camping Education. She taught physical education at San Diego High School for three years and at the American College for Girls in Istanbul, Turkey for three years as well.

In 1954, she entered the U.S. Army as a 2nd Lieutenant in order to attend the physical therapy course at Fort Sam Houston, Texas. She remained in the Army for almost 25 years attaining the rank of Colonel. She worked in various Army hospitals in the United States, Germany, Japan, and Vietnam. She received a MA in Physical Therapy from Stanford University in 1962 and taught in the Army Physical Therapy program for three years. She received a Bronze Star for her work at the field hospital in Nha Trang, Vietnam, and a Legion of Merit medal upon her retirement in April, 1979.

In March 1991, she married George A. Doolittle. He is a Canadian who retired as a Wing Commander in the Royal Canadian Air Force.

Her mother worked during the four years that Beatrice was attending college. She paid for all of Beatrice's expenses. Later when Beatrice attempted to reimburse her mother, her mother said that all she wanted was for Beatrice to help her own children obtain a college education. Since she did not have any children of her own, as a tribute to her mother, she is pleased to be able to help other students financially, and established the Mrs. Helen Lee Thompson Designated Scholarship.