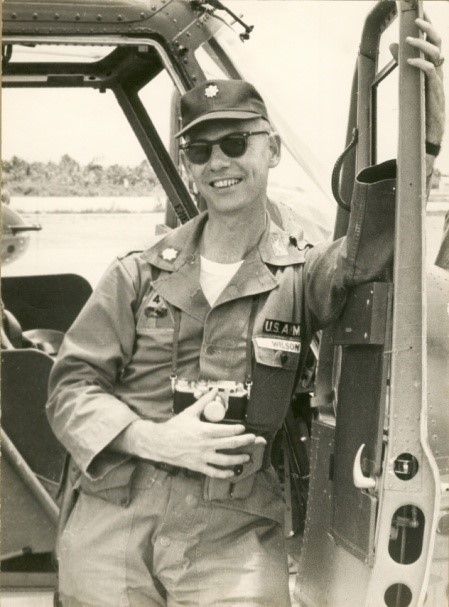 Born in Morgantown, West Virginia, Minter Lowther Wilson, Jr., graduated in 1946 from the U.S. Military Academy at West Point, and retired from the U.S. Army as a Colonel after a twenty-six-year career in combat arms. He was commissioned in the Infantry branch, transferred to Armor, was privileged to command troops at the platoon, company, battalion, and brigade levels, and was twice awarded the Legion of Merit. Minter cherished his overseas assignments, which included Germany following World War II (1947–50), Taiwan (1953–55), Vietnam (1963–64), Rome, Italy (1969) and Supreme Headquarters Allied Powers Europe (SHAPE) near Mons, Belgium (1969–72) where he served as SHAPE's Chief of Public Information.
He received a master's degree in journalism from the University of Wisconsin and also graduated from the Command and General Staff, Army War, and NATO Defense Colleges.
After retiring from active duty, he served sixteen years as Director of Communications for The Retired Officers Association (TROA, now the Military Officers Association of America) and Editor of The Retired Officer Magazine. During a challenging time for the military's esprit de corps, he is remembered in those roles for the positive impact of his well-reasoned editorials, his thoughtful curation of the magazine's content, and his organization and management of TROA's national conventions at various venues across the nation. The magazine won numerous awards during his tenure, and in 1979, the Freedoms Foundation at Valley Forge honored him "for outstanding achievement in bringing about a better understanding of the American way of life."
He served in this life from August 19, 1925, to July 5, 2010. He considered it his obligation to choose the "harder right" over the "easier wrong," studied in many fields so that he might know the right, and was privileged to serve on those terms. Striving to act on those tenets in every dimension of their lives, he and his beloved wife of sixty-two years, Helen Hope Wilson, gave freely to educational causes and were especially proud to support the Association's Scholarship Fund.
Minter and Hope lie in rest together at Arlington National Cemetery.