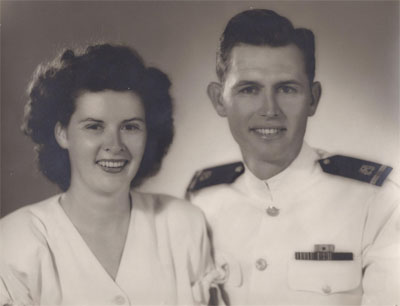 Thurston L. McCrary, CWO, USN (Ret)
March 28, 1917 – August 19, 1980

Carmelita J. McCrary
August 11, 1917 – May 17, 2011

Thurston (Mac) McCrary was born in Waycross, Georgia. He joined the United States Navy in 1935 and spent most of his naval career skippering a yard tug and in marine salvage and submarine rescue. He served for 2 years in Africa and the Mediterranean, and married Carmelita Tiffin Johnson on March 11, 1945. They moved to New York City where Mac attended the naval diving and salvage school at Pier 88. Upon completion, he was stationed at USNB Charleston, South Carolina, where he worked on putting the U.S.S. Bluebird (ASR-19) into commission. The McCrarys lived in Hawaii from 1946 until 1951. Mac was stationed at the Pearl Harbor Submarine Base and continued his work with the U.S.S. Bluebird. He was medically retired from the Navy in 1951. Mac attended Stanford University and obtained his Bachelor of Arts degree and Masters in Business Administration. He was employed by the Lockheed Corporation in Sunnyvale, CA where he had a highly successful career in missiles and space and in off shore petroleum operations in CA and Canada. The McCrary's retired to Anacortes, WA in 1971.

As Carmelita said, "the Navy was the best thing that could have happened to him".

Carmelita Johnson McCrary was born in Seattle, WA. She attended the University of Washington and graduated with a major in art. Twenty five years later she obtained a second degree and teaching credential from San Jose State.

The piano was a big part of Carmelita's life. She began playing at the age of 3 years and was referred to as a child prodigy. She studied piano for the next 18 years and gave a series of recitals and programs which included radio broadcasts. After graduating from the University of Washington, she studied with Rudolph Ganz at the Chicago Musical College.

During Mac's naval career, Carmelita had a series of interesting jobs. The positions she talked most about were those when they were stationed at Pearl Harbor. During those years, Carmelita worked at the Defense Utilization and Marketing Office (DMRO), the District Legal Office, and the Trust Territories at CINCPAC.

Carmelita was passionate about teaching and particularly enjoyed 4th, 5th, and 6th grades. She created a stimulating learning environment for her students through the synthesis of art, music, and language.

The McCrarys attributed much of their life success to the United States Navy and to the education Mac received from Stanford University.