Col Edwin Dale Taylor, USAF (Ret.)
Dates of birth and death unkown
and

Maj Edith E. Taylor, USAF (Ret.)
September 5, 1920 – July 31, 2005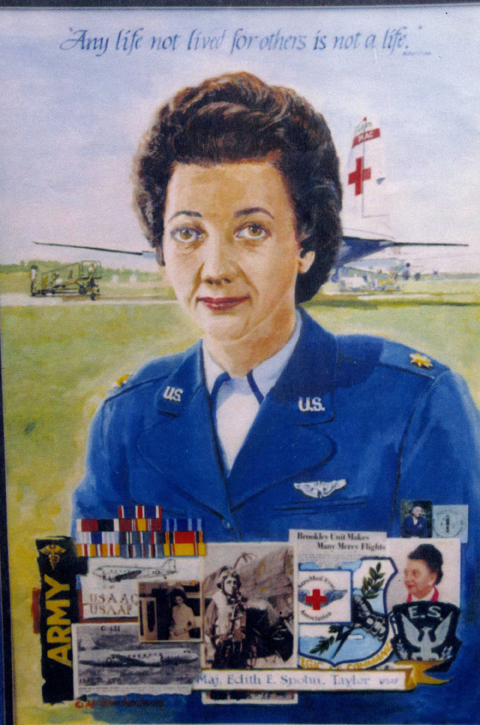 This picture depicts the career of Edith Eloise Spohn Taylor. It was documented, recorded, illustrated, and presented in colored art form by artist Mel Blanchard, of the Military Times newspaper. Her overseas assignments included the European theater after the invasion of Normandy, Morocco, North Africa and Japan. She was a registered nurse and flight nurse. She was assigned to Strategic Air Command at the time of her retirement.

She and her husband, Col Edwin Dale Taylor, USAF (Ret.) established a designated scholarship with the MOAA Scholarship Fund from proceeds of the sale of their collection of aviation posters. The posters included 152 autographs of the original 244 American volunteers assigned to the 3 Eagle Squadrons of The Royal Air Force - 113 were killed, 78 wounded and 37 were POWs. Colonel Taylor carried the sectional map with Hawker Hurricanes and Supermarine Spitfires the day he was badly wounded in air combat over France. The single MK9 Spitfire was the last one flown by the Eagle Squadrons.

Read more about these brave men.