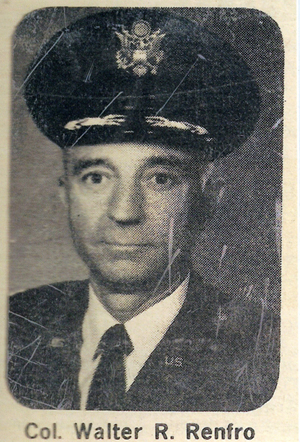 Ray Renfro graduated from Oklahoma A&M College with a BS degree in June 1941. He enlisted in the US Marine Corps in April, 1941 but was separated after one year of service. He graduated from US Army Air Force flight school in April 1944.
Following WWII, he went to work for Phillips Petroleum Co as an accountant, but remained in the USAF Reserve.

During WW II, Lieutenant Renfro served as a pilot (flying 24 combat missions) in the Troop Carrier Command in Europe using C-47 type aircraft towing infantry-filled gliders, dropping paratroopers and supplies behind enemy lines.

He was recalled to active duty in 1951 during the Korean War. Captain Renfro instructed at several bases, training student pilots. "We used B-25s, T-6s, T-28s, and T-33s. During this time, I was able to amass a considerable amount of flying time and experience through almost-daily flights."

Stationed in England, Ireland, and Scotland between 1954 and 1957, Major Renfro was a test pilot in F-86Ds, Ks, and Fs, as well as B-26s at various British contractors' plants and delivered aircraft to France, Germany, Holland, Norway, Sweden, Denmark and Spain.

Lieutenant Colonel Renfro spent 10 years (3 assignments) at Hill AFB in Utah flying T-33s ad T-39s. "In 1966, I was transferred to Andrews AFB near Washington, DC, but in 1967 I was reassigned to Shaw AFB, SC for transition training into RF-4C type aircraft for reassignment to Southeast Asia. While there, I was assigned to the 16th Tactical Reconnaissance Squadron at Tan Son Nhut AB in Saigon, Vietnam where I flew 189 combat missions over very hostile targets defended by a most heavily concentrated array of anti-aircraft guns and missiles."
Colonel Renfro spent the rest of his career in the Procurement and Production field. He was responsible for awarding work to USAF contractors for spare parts and for the overhaul and maintenance of aircraft such as F-4s, B-52s, C-135s, and for the VIP/Special Air Mission fleet of aircraft at Andrews AFB used to transport the President and other VIPs.

Colonel Renfro retired from the USAF in September 1975 after 33+years of service. His decorations include a nomination for the Silver Star, the Distinguished Flying Cross (2), the Commendation Medal (3), plus many other lesser awards and decorations. "I was most fortunate to finish my flying career with over 7000 hours flying time, to include over 200 combat missions, and with the number of my landings equal to my takeoffs, plus no purple hearts."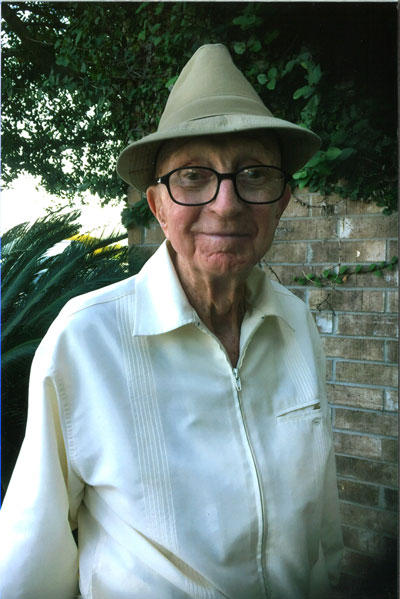 After retirement, Colonel Renfro taught at the University Oklahoma for nine years.

Betty W. Renfro, his wife of 54 years, attended Draughans' Business College and Oklahoma A & M College. They were married in 1944 and she worked as a secretary while her husband was in Europe during WWII.

Upon his return, she became an executive secretary at Phillips Petroleum Co. Bartlesville, OK for 5 years. After her husband was recalled to active duty in 1951, she did a great deal of volunteer work, mostly through the USAF Officers Wives Clubs as a Board member, thrift shop chairman, and protestant chapel volunteer. After Colonel Renfro's retirement in 1975, she worked as the office manager for the Oklahoma Auto Dealers' Association.

They moved to Air Force Village II in 1988, where she volunteered at the Pass & Identification office at Lackland AFB and later at the AFV II Protestant Church office. She was always a tremendous believer in giving deserving young people a chance to improve their lot in life by helping them obtain more education; they also helped relatives and others in this regard.