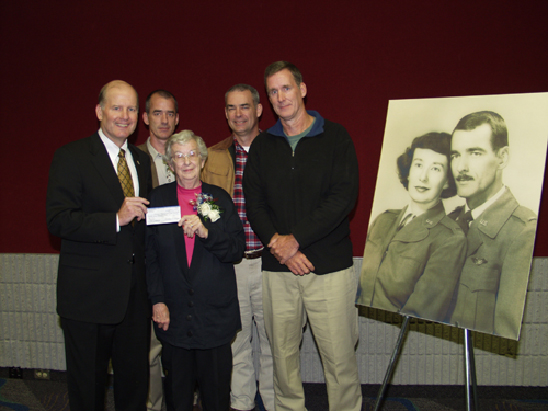 Former 1st Lieutenant Barbara Rose Hedges, USAF and her sons (L-R) LTC William Hedges, USA; John Hedges; and Walter Hedges
Lt Hedges established the Colonel John D. (USAF-Ret.) and 1st Lieutenant (USAF) Barbara R. Hedges Scholarship. The photograph to their right is a photograph of Col and Lt Hedges while they were lieutenants in the Air Force.
Col John D. Hedges, USAF-Ret.
25 October, 1925 – 25 November, 2000

An 11th generation American, John Depew Hedges was born in Southampton, New York. At the age of 17, he joined the U.S. Army Air Corps as an Aviation Cadet during WW II. After the war ended, he was discharged and farmed in the Arkansas area. He earned a degree in Animal Husbandry from the former Colorado A&M at Fort Collins, Colorado. However, Colonel Hedges never let go of his boyhood dream to fly and during the Korean War he volunteered to reenter the Air Force, and trained student pilots in the T-6 and later the B-25 aircraft.

His military career included tours of duty in Japan, Korea, Thailand, and Vietnam, as well as numerous stateside assignments including command of the C-130 Simulator Squadron at Little Rock AFB, Arkansas.

Colonel Hedges' last command was the 17th Tactical Airlift Squadron (Firebirds), the only ski-equipped C-130 airlift unit in the world, at Elmendorf AFB, Alaska. He was a command pilot with over 8,000 hours of flight time in various military aircraft.

His military decorations included the Bronze Star, nine Air Medals, and the Vietnamese Honor Medal First Class.

In 1973, after 30 years of service, Colonel Hedges retired from the USAF.


1st Lt Barbara R. Hedges, USAF
24 October, 1924 -

Barbara Hedges was born in Tonawanda, New York. She earned a BA in Journalism from Bethany College in West Virginia in 1946 and a Master's degree in Education from the former University of Buffalo in 1948. In April, 1952, she applied for and received a direct commission into the USAF from her hometown.

LT Hedges trained at Lackland AFB in San Antonio, Texas. Her first assignment to Laughlin AFB in Del Rio, Texas was terminated when the base commander learned that she was part of the Women in the Air Force program. This program served to bring women into limited roles in the Air Force as a result of the Women's Armed Services Integration Act signed by President Truman. Reassigned to Goodfellow AFB, in San Antonio, Texas, she was an Educational Psychologist with the Research and Development Directorate. Upon her marriage, Lt Hedges was reassigned to the base as the Public Information Officer. She was forced to separate from the service when she learned that they were expecting a child. Lt Hedges received an Honorable Discharge in 1954.

Barbara Hedges resides in Malvern, Arkansas on the family farm. Together, she and Colonel Hedges raised five children: John (a Captain with Northwest Airlines and former USAF Captain), Walter (retired grocery store manager), William (LTC, USA), Kate Hedges Hoffnung, and Dr (DVM) Jean D. Hedges.