16 November, 1921 -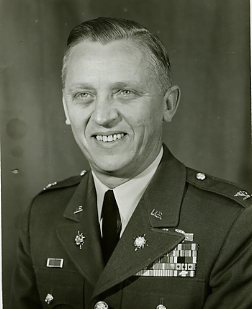 Born in Westhampton Beach, New York, Michael Tymchak enlisted in the U.S. Army in July, 1942 as a 20-year old high school graduate. After basic training as an enlisted man, he graduated from Infantry Officer Candidate School and was commissioned a 2nd Lieutenant in February, 1943. He served in Europe during WW II for 2½ years, earning his Combat Infantryman's Badge with the 17th Airborne Division.
Throughout his career, Colonel Tymchak held numerous high-level staff positions including Headquarters, U.S. Army Intelligence Center; Headquarters, U.S. Army Europe; Headquarters, NATO Mediterranean Command; and Headquarters, Department of the Army.

He commanded a highly decorated unit, the 1st Military Intelligence Battalion (Air Reconnaissance Support), in Vietnam where, in cooperation with the U.S. Air Force, he established an aerial reconnaissance system that was successfully used for the entire war without change.

He concluded 30 years of service with command of the 112th Military Intelligence Group which had U.S. Army counterintelligence responsibilities over a 14 state area.

He is a graduate of the U.S. Army Command and General Staff College and the National War College. While on active duty, he earned a B.S. in Military Science and a master's degree in International Relations.

Colonel Tymchak is also a member of the Infantry Officer Candidate School Hall of Fame.

Colonel Tymchak also established a Designated Scholarship "In memory of his Departed Classmates of the National War College Class of 1969".