Col Jack G Emerson USAF (Ret)
12/28/1917 – 2/20/1994
and
Mrs. Geraldine M. Emerson
11/15/1919 – 3/10/2003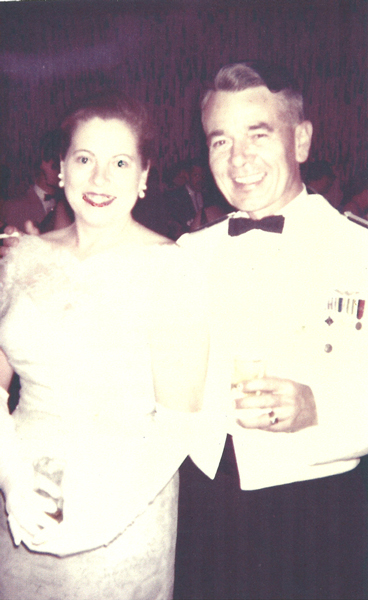 Jack was born in Battle Creek MI and raised by adopted parents Burt and Grace Emerson.
He enlisted in the Second Infantry at the age of 15 and served three years. He graduated from Battle Creek Central High School through the GED program and worked six years at Eaton Corp.
He completed the civilian pilot's program and entered the Air Corps Cadets in 1942. He was stationed at Santa Ana and Flythe and Lemore Air Force Base in CA and received his wings at Luke Air Force Base, AZ. He was stationed at Lowrey Air Force Base, CO, for photo reconnaissance training and flew P-38s at Peterson Field, Colorado Springs, CO.
Mr. Emerson flew the first P-38 into Kellogg Field, where he met his wife, the former Geraldine Andre. They were married Sept 14, 1943.
He was stationed at Mount Farm in England before being shot down and becoming a German prisoner of war for more than a year at Stalag Luft III. He was liberated by Patton's Army.
Mr. Emerson was an instructor pilot in P-38s in Rapid City SD and for Chinese Nationalists and received Chinese wings from the Nationalist government. He was stationed in Germany 1946-49 in the Army of Occupation.
He graduated from Squadron Officers School in Panama City FL and Staff and Command School in Montgomery AL, was commander of the 322nd Squadron at Lockbourne Air Base, Columbus OH and won the Strategic Air Commanders Competition.
He received numerous commendation including European-African-Middle Eastern Campaign Medal, Good Conduct Medal and the Distinguished Flying Cross. He graduated from Omaha University with a degree in business administration.
He was chief of Weapons Effects Branch and served with the Joint Strategic Target and Planning Staff at Strategic Air Command Headquarters in Omaha NE when he retired in 1966.
In 1966, he returned to Battle Creek and opened a brokerage business. He enjoyed golf, bridge, hunting, fishing and computers.
Gerry was raised in Battle Creek MI and graduated from Battle Creek Central High School in 1938. She had been employed by the Kellogg Co and then for six years by the Eaton Corp where she met Jack Emerson.
She was a member of Chapter #153 Order of the Eastern Star. She volunteered for Family Services when her husband served in the US Air Force. She was a former nurse's aide. She enjoyed gardening, reading, sewing, and bowling in a league.