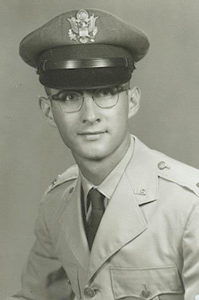 Lt. Col. Leonard W. "Bill" Riley III, USAF (Ret), was born Sept. 11, 1934, in Roseburg, Ore. He graduated from Oregon State College, now called Oregon State University, in 1956 with a Bachelor of Science in agriculture, a minor in dairy husbandry, and a commission in the Air Force Reserve. He received a Master of Science in agriculture and a minor in milk production/physiology in 1957 and reported for active duty in the Air Force in May 1957.
Riley completed primary basic navigator training at Harlingen AFB, Texas, in June 1958. After a one-year assignment in a photo reconnaissance detachment in Korea, he reported to Travis AFB, Calif., in September 1959, where he remained until October 1968, performing duties in various flying squadrons and subsequently as the base fuels officer. At Travis AFB, Riley was integrated in the regular Air Force. Subsequent assignments included staff fuels officer with the Joint United States Advisory Group/Military Assistance Command Thailand and the Air Force Advisory Office, Tan Son Nhut, Vietnam, where he was advisor to the senior Vietnam air force fuels officer.
In 1971, Riley returned to flying duties briefly at Dover AFB, Del., before resuming fuels duties first at Dover Base Fuels and then as commander of the defense fuel region at McGuire AFB, N.J. His final assignment was as chief of the Joint Petroleum Office, Camp H.M. Smith, Hawaii. He retired from military service Dec. 31, 1981.


After retirement, Riley and his wife, Barbara (formerly Barbara Anne Doering), returned to Roseburg, where they built a retirement home on the bank of the North Umpqua River. Riley has resumed his interest in working with livestock. He spent more than 13 years after his military career as a livestock technician, working with the U.S. Peace Corps in Guatemala, Central America.
The Rileys have three children, Michael, a Navy commander who served at the NATO Role III Multinational Medical United located in Kandahar, Afghanistan from August 2013 to December 2013 before returning to Norfolk, Virginia; Victor, a senior software engineer in Silicone Valley, Calif.; and Wendy Heintz, who lives in New York and flies with Delta Airlines.