Lt Col John E. Miller, USAF (Ret.)
1 January 1920 – 20 February 2008

and

Grace Juanita Waller Honeycutt Miller
22 September 1924 – 27 December 1997)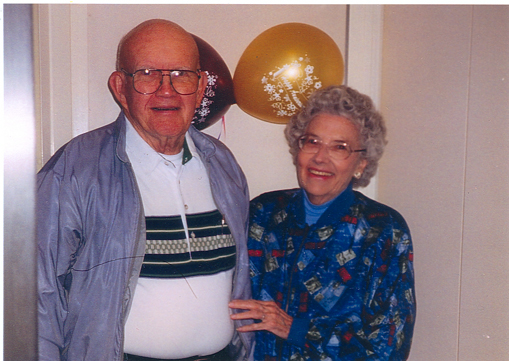 Born on New Year's Day, 1920, John Miller was the son of Harold Brown Miller and Bertha Moyer Miller of Philadelphia, Pennsylvania. John's father was an executive in the steel industry which required the family to move with his assignments. John took his first steps in San Francisco, California, began his education in Jacksonville, Florida, and attended the University of Illinois before enlisting in the US Air Force. During WW II, John earned his wings and flew B-25s, B-26s, and B-47s. His military assignments took him to New Guinea, Australia, North Carolina, Pennsylvania, Maryland, Georgia, the Philippines, and Kansas. He retired in 1961 with the rank of Lieutenant Colonel.

While on furlough at Morris Field in Charlotte, North Carolina, he met Grace Juanita Waller Honeycutt from Spencer, North Carolina. After a very short courtship, they eloped and were married in 1947 at a base chapel in Pennsylvania prior to his deployment to the Pacific Islands. Grace remained stateside for nearly a year before joining John in the Philippines. During their 50 years together, John and Grace lived in many interesting parts of the world including the Philippine Islands, where he earned his college degree in 1955, the plains of Kansas, and the Piedmont of the Carolinas. They enjoyed golf and traveling, logging trips to Holland, Russia, England, France, Africa, Canada, Alaska, and Panama.

Upon his retirement from the U.S. Air Force in 1961, John worked with Brunswick Corporation in Marion, Virginia as a Quality Engineer with radon and plastics. He later moved to Kinston, North Carolina to work with DuPont. In 1970, he was employed by the North Carolina Department of Social Services as an Investigator of Fraud and Overpayments and worked there until his retirement in 1985.

Their niece, Bonnie Tinsley, wrote: "My aunt and uncle were not blessed with children of their own; in turn they shared their love with our family and were amazing mentors for us all. Beliefs and lessons shared included honesty, respect for all people, the importance of education, service to God and Country, safety (they had seat belts installed in their vehicles long before required), personal presentation, and appropriate etiquette. They were two amazing people that I loved very much."

John and Grace made ongoing donations to the MOAA Scholarship Fund and, upon their deaths, left a final gift to the Fund to help educate military children.