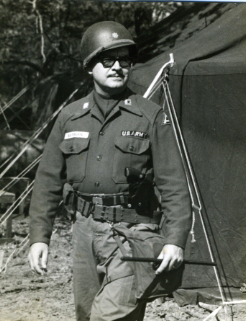 Lt Col Ellis T. Rayburn, AUS
(June 12, 1920 – October 6, 2007)
Colonel Rayburn was born in Robert E. Lee, Texas, the son of Mack Callahan and Mary Canady (Brummit) Rayburn.
He enlisted in the U.S. Army in February, 1942 in Odessa, Texas. He advanced to Sgt. was selected for OCS and commissioned as 2nd Lt, AUS, Medical Service Corps in March, 1943. He was deployed to the European Theatre of Operations with the liberating forces of France and Germany. He later served in Korea as well as Stateside.
He served many and varied assignments. His service included duty as Administrative Officer, Medical Detachment, 838 Anti-Aircraft Automatic Weapons Battalion, European Theatre of Operations; Adjutant, Headquarters and Headquarters Company, 1st Medial Battalion, U.S. Army Europe; Chief Personnel Division Medical Services, 8th Army AFFE-Korea; Army Advisor to NGUS (Oklahoma) 45th Infantry Division; Commanding Officer, 56th Medical Battalion, 30th Medical Group U.S. Army Europe; Chief Personnel Division, Ireland Army Hospital, Ft. Knox, Kentucky. He retired with the rank of Lieutenant Colonel in May 1968 after more than 26 years of continuous Active Duty.
He was awarded the Purple Heart and numerous citations including the Army Commendation Medal with Oak Leaf Cluster. After retirement, he was active for several years with the Florida Hypnosis Association, Pompano Beach Power Squadron, and the Gold Coast Navy League.
He was the proud father of five children. He passed away at home in Ft. Lauderdale, Florida.
His widow, Mary Jo (Woodham) Rayburn established a Designated Scholarship in his memory.