Maj. Robert W. Benzie, USAF (Ret.)
6 July 1906 - 1988

Major Benzie was born in Helena, Montana. His parents, who emigrated from Scotland, later moved to White Sulphur Springs, where he attended school.

He enlisted in the Army Air Corps in 1930, and spent 12 years in Hawaii, where he earned his pilot's wings and joined the Army Signal Corps. A Pearl Harbor survivor, Major Benzie was also stationed in Japan and Korea.

Major Benzie's assignments in the U.S. were very special, as he served as wartime military inspector of Midwest Corporations and did several tours at Edwards Air Force Base where exciting research was being done.

Major Benzie retired in 1956 at Edwards Air Force Base, California after 26 years of service.

Maj. Gladys A. Benzie, ANC
10 March 1917 - 2007

Major Benzie was born In Waubay, South Dakota. At age 2 ½ she moved to Snohomish, Washington.

She attended school in Monroe, Washington and later completed nurse's training in Everett, Washington, graduating in 1939. As a Red Cross Nurse in 1940, she joined the Army Nurse Corps at Ft. Lewis, Washington for one year. Just as her year was up, the attacks at Pearl Harbor occurred and there was a need for Army nurses.

Major Benzie's military career was a very exciting and worthwhile experience, containing one trip around the world on the Army transport, USS Uruguay, caring for patients on their return to the United States. The trip began at Wilmington, California en route to Karachi, India, and returned to New York City, New York.

In September 1950, Major Benzie traveled to Pusan, Korea, where she met Maj Robert W. Benzie, USAF, and the two were married when they arrived home after 19 months in Korea.

When her husband retired, Major Benzie resigned after 16 years of service and came home from Nuremburg, Germany, where she was stationed. They moved to Paradise, California where they enjoyed many busy, wonderful years working, fishing, traveling, volunteering, and having fun.

Major Benzie's father motivated her to get as much education as she could and to do her best always. She and her husband planned to invest in scholarships, and the MOAA fund was very important to them.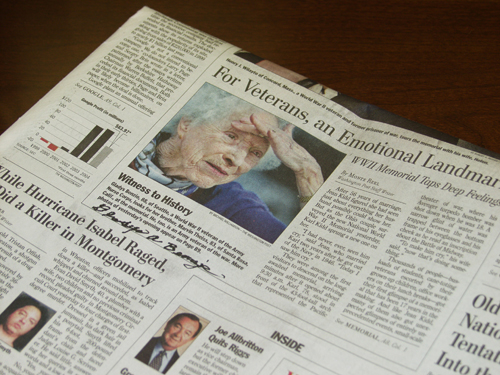 Gladys Benzie featured in Washington Post after attending the opening of the WWII Memorial.