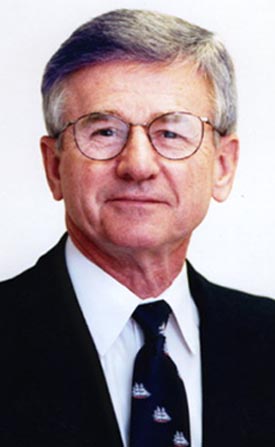 RADM Richard I. Rybacki, USCG
October 23, 1934 – February 7, 2011
Richard was born in Niagara Falls, raised in Lockport and graduated from Royalton-Hartland Central High School in Middleport, NY in 1952. He graduated from the U.S. Coast Guard Academy Class of 1956. He held a Master's of Science degree in Naval Architecture and Marine Engineering from the University of Michigan, and a Master's of Business Administration from New York University.
Admiral Rybacki started his career aboard the USCG STORIS during its historic transit of the Northwest Passage in 1957. He saw sea duty in cutters home-ported in Alaska, California, and Massachusetts and held a variety of engineering and technical billets. He was Commander of Group Portland in Maine. After service as the Deputy Chief of Personnel and as Comptroller of the Coast Guard, he commanded the 1st CG District from 1988 to 1991. He retired in 1991 and moved to Falmouth, Maine after 35 years of distinguished service.
Post-retirement he continued to be active in public service. In 1997, he was nominated by the Governor of Maine and appointed by the Secretary of Transportation as the Chairman of the Maine Lighthouse Selection Committee. He was the President and Chief Executive Officer of OpSail Maine 2000, commissioner of the Ellis Island Restoration Commission, President of the Military Coalition of Maine, and advisory board member of the Portland Harbor Museum. He held a number of positions on the Board of Directors for the Military Officers Association of America (MOAA), including Chairman of the Government Relations Committee.
Some of Richard's memorable personal interests included golf, baseball, basketball, Boy Scouts, church youth group, cribbage, chess, fishing on the Merrimack River, and time with his grandchildren.
In 2011, the MOAA Board of Directors established the "RADM Richard I. Rybacki Designated Scholarship" in his memory.