Mrs. Evelyn C. Fickessen
(25 September, 1911 - 15 November, 1992)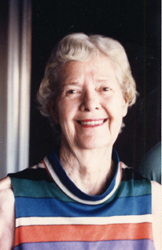 The MOAA Scholarship Fund was named as a beneficiary of her estate. A designated scholarship was established in her name upon her death in 1992.

During her lifetime, she established a designated scholarship in memory of her husband, LTC William R. Fickessen, Jr., AUS (Ret.).