Employers who support their National Guard and Reserve employees when they step away for training and deployments improve the lives of servicemembers and their families – and might keep them in uniform longer.
The benefit brought by such employers was among several topics tackled by top Guard and Reserve leaders, and other stakeholders, during the inaugural National Guard and Reserve Family Forum on July 26 in Washington, D.C. The forum, co-hosted by MOAA and the Reserve Officers Association, shed light on issues faced by members of these components, such as family support services and maintaining health care coverage through changes in duty status.
"It has been a challenge for our employers, particularly the smaller employers, as deployments have become a regular battle rhythm," said Air Force Maj. Gen. Dawne Deskins, director of Manpower and Personnel for the National Guard Bureau Joint Staff. "It does become a strain on employers. Anything we can do to make service more attractive, that has a real impact."
[RELATED: MOAA Employee Receives ESGR Patriot Award]
Maj. Gen. Eric Overturf, Mobilization Assistant to the Chief of the Air Force Reserve, said he knows employers can reach a breaking point when their business becomes affected due to employees that step away for service obligations. Employers may review a résumé and find stealthy ways to discriminate against servicemembers.
One way to combat some issues has been to give orders as far in advance of deployments as possible — up to 180 days — to give servicemembers and their employers predictability.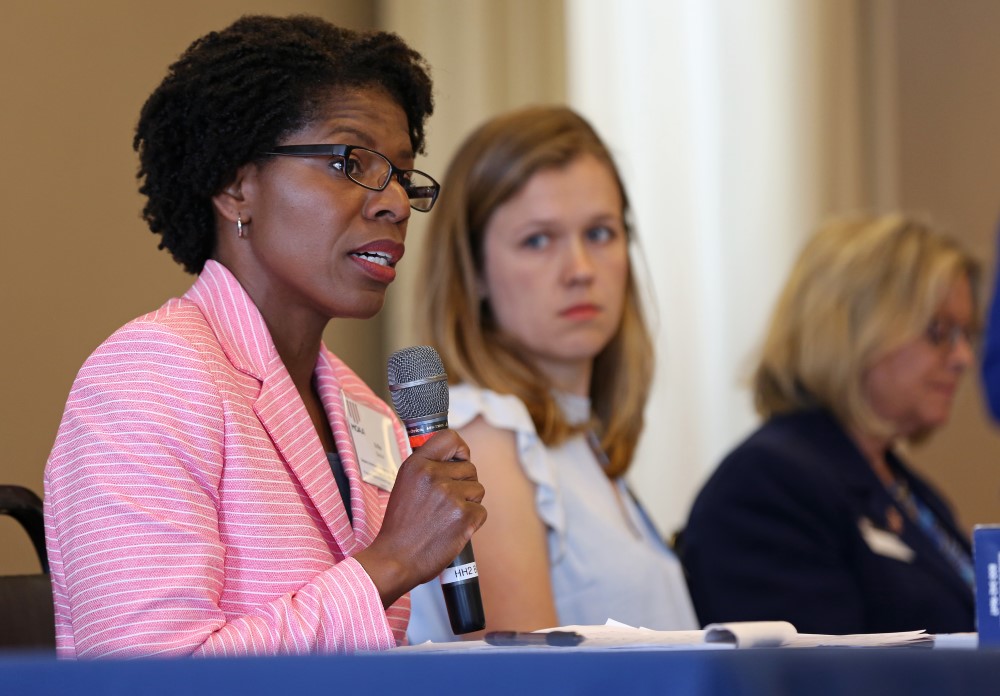 Erika R. Slaton, with the Office of the Deputy Assistant Secretary of Defense, speaks during the National Guard and Reserve Families in the Community panel at the National Guard and Reserve Family Forum in Washington, D.C. on June 26. (Jennifer Milbrett for MOAA)

Overturf also suggested servicemembers invite their civilian employees to their unit to try their equipment and learn about their missions to gain a better understanding of the significance of their military role.
MOAA President and CEO Lt. Gen. Dana T. Atkins, USAF (Ret), said Guard and Reserve members long have been considered part-time warriors, yet they face similar hardships as their active duty counterparts. The forum connected stakeholders directly with top military leaders to discuss these hardships.
"We have to change the culture," Atkins said. "They are not weekend warriors anymore. They're deploying all over the world. They have now become a critical piece of our national defense. They were a rainy day force, but we need them every day. Everything that affects active duty, affects them."
Panelists represented a range of organizations, including military, public schools, spouse advisory councils and the personnel support centers. Among the other topics discussed:
Support in the Classroom
Experts from the National Guard and Reserve communities are pushing for ways to identify military children to connect them to available resources; legislation is in the works to do just that, after similar legislation took effect regarding children of active duty members. Complicating matters, a child of a reserve component member may lack the military friendly resources offered by schools on or near military installations.


Dan Dunham, Military Student and Family Specialist for the Virginia Department of Education, said it's important that school counselors and others "are aware of the unique needs of students, especially during times of deployment."
"There are school divisions that flag military-connected students. If all school systems did that, that would be great," he said. "Then they could recognize stress, recognize a child in need and help to get that child in need the support necessary. We're not there yet. It is occurring, but not at the scale it needs to occur."

Backing TRICARE Reserve Select for Federal Employees
Top leaders from the Guard and Reserve are continuing to call on Congress to change a law that would allow their servicemembers who work in federal civilian jobs to enroll in TRICARE Reserve Select.
"We've been trying for years to get the restriction removed," said Sgt. Maj. Frank Yoakam, USA (Ret), who serves as the Executive Director for the Enlisted Association of the National Guard of the United States.
MOAA has backed legislation that would open enrollment, giving members more choice. The proposed bill would open the TRICARE program to about 113,000 more members, with a projected cost savings of about $1.5 billion in discretionary over 10 years, according to the Congressional Budget Office, against $240 million more in mandatory outlays.
GI Bill Benefits
The panel also discussed the significance of the Post 9/11 GI Bill – and how a recent change in its transferability could impact the force.
The education benefit is the most attractive incentive for incoming troops, said Anthony Wickham, the Family Programs Chief of the National Guard Bureau.
"It's the most mentioned benefit for reasons why people join the National Guard," he said. "It's a Godsend – a Congress-send."
The Post 9/11 GI Bill provides education benefits for servicemembers who served on active duty status for 90 days or more since Sept. 10, 2001. The benefit covers tuition and fees at the school, a monthly housing allowance and a stipend for books and supplies.
Last year, the Defense Department changed the transfer policy to allow only family members of servicemembers with fewer than 16 years of service to transfer their benefit. Those with more than 16 years of service will be able to keep their educational benefit, but will be unable to transfer it.
"I'm concerned Congress may not continue allowing transferability," said Lt. Col. Aniela Szymanski, USMCR, director of Veteran and National Guard/Reserve issues for MOAA. "They've already begun scaling back. It's great that servicemembers get the GI Bill, but if we cut off transferability, it may affect people who join."
Amanda Dolasinski is MOAA's staff writer. She can be reached at amandad@moaa.org. Follow her on Twitter @AmandaMOAA.