Two heroic pilots – one a member of the legendary Tuskegee Airmen, one a participant in the Doolittle Raid – have been recommended to the president for honorary promotions for their distinguished service thanks to the recent passage of the National Defense Authorization Act.
Col. Charles E. McGee, USAF (Ret), has been recommended for promotion to brigadier general, and Lt. Col. Richard E. Cole, USAF (Ret), would be posthumously promoted to colonel. The measure, which was signed by President Donald Trump on Dec. 20 and includes several MOAA-backed provisions, recognizes the aviators' service in air operations during World War II.
"Beyond expectations," said McGee, a MOAA Life Member, describing the promotion. He celebrated his 100th birthday on Dec. 7; the day before, he flew a private jet from Frederick, Md., to Dover AFB, Del. He told MOAA he was planning a quieter celebration of the promotion with family and friends.
McGee, of Bethesda, served with the Tuskegee Airmen, the first African-American aviators to serve in the then-segregated armed forces. The nickname came from Alabama's Tuskegee Army Air Field, where they trained.
[RELATED: MOAA's 100 Veterans, 100 Years]
The group included fighter and bomber pilots that completed combat missions in Italy during World War II.
McGee is a legend among Air Force aviators for flying 409 fighter combat missions over three wars. He completed 136 combat missions with the Tuskegee Airmen during World War II, 100 combat missions in the Korean War, and 173 combat missions in the Vietnam War.
McGee told MOAA it was rewarding to take on different phases of missions in each of those wars: superiority-type flying during World War II, interdictions and ground support in Korea and intelligence-gathering in Vietnam. However, he said his most rewarding experience was to retrieve Americans during World War II, which had been part of classified missions he said he couldn't share until years after.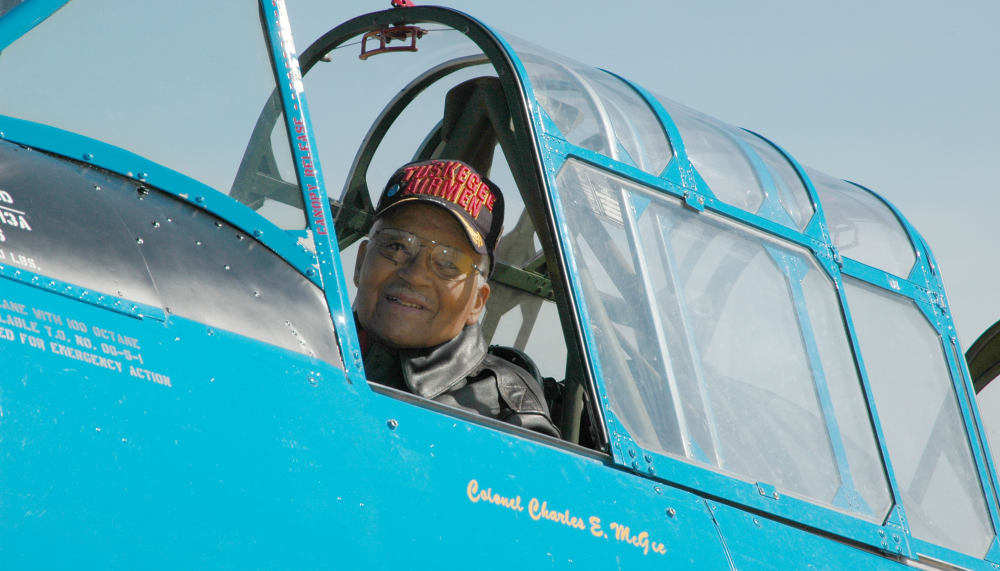 Col. Charles McGee, USAF (Ret), sits in the cockpit of a replicated BT-13 in 2010 at Joint Base Andrews, Md. (Navy photo)
"Retrieving Americans protected by Yugoslavia from German forces was important," McGee said. "It was highly classified. It was never talked about. Fortunately, two of those missions, our unit was able to participate in. It was always, to me, very important to have participated in such an adventure that brought a lot of Americans back home."

McGee became the first African-American man to command a stateside Air Force Wing and Base. He retired after serving 30 years.
Doolittle's Co-Pilot
Cole had been the last surviving Doolittle Raider – the nickname given to the fearless aviators who executed an air raid on Tokyo and other places in April 1942 to strike back at Japan after the attack on Pearl Harbor.
Cole, a MOAA member who was 103 years old when he died in April, first enlisted as an aviation cadet, then earned a commission as a second lieutenant to become a pilot. He retired in 1966 after serving 26 years in the Air Force.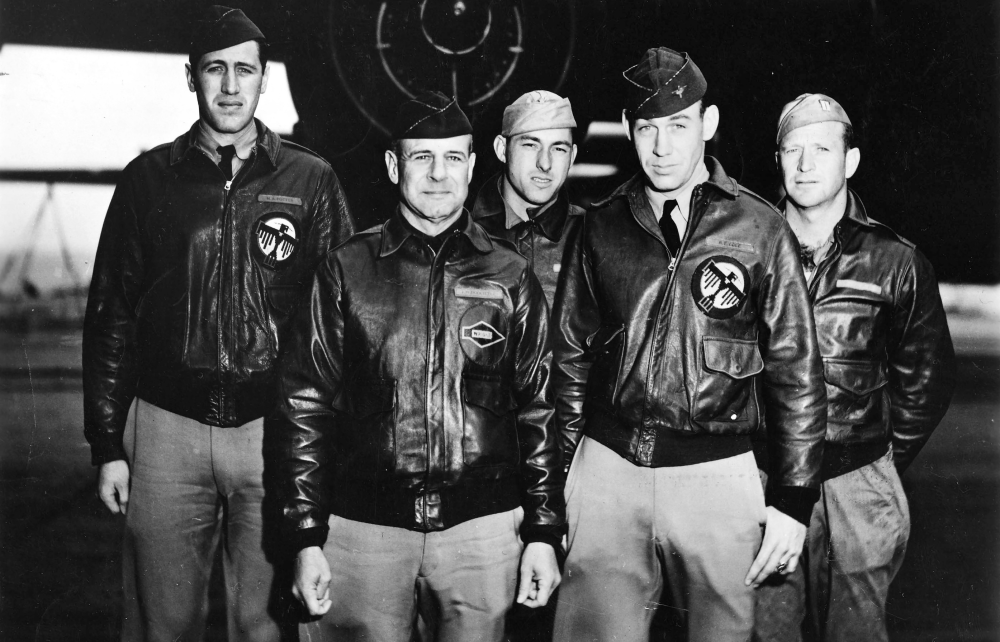 Raiders remembered: Second Lt. Henry A. Potter, Lt. Col. James Harold Doolittle, Staff Sgt. Fred Anthony Braemer, 2nd Lt. Richard E. Cole and Staff Sgt. Paul John Leonard stand in front of a B-25 Mitchell bomber. (Air Force photo courtesy of doolittleraider.com)
Cole was the co-pilot to then-Lt. Col. Jimmy Doolittle when they executed the 1942 raid – a daring feat not only because of the intended targets, but because the pilots first had to learn how to pilot a B-25 Mitchell bomber off the deck of an aircraft carrier, which had never been done before.
Doolittle and Cole were in the lead aircraft with the least amount of runway available on USS Hornet (CV-8). Cole was only Raider still alive when the wreckage of Hornet was found by a research vessel in January 2019.
[RELATED: Lt. Col. Richard Cole, Last of the Doolittle Raiders, Dies at 103]
After the raid, Cole remained in China. He conducted a high-risk aviation mission known as "Fly the Hump" while piloting cargo aircraft. The mission, supporting those defending China, spanned the 530-mile long passage over the Himalayan Mountains, according to the Air Force.
He went home briefly, but returned to combat to serve as a pilot of the C-47 Skytrain and an engineering officer for the transport section in the India-Burma theater. During Operation Thursday, Cole landed more than 200 soldiers deep behind enemy lines to establish an airfield – regarded as the birth of the Air Commandos.
Cole's service made a lasting impact on aviators in the Air Force Special Operations Command. After his death in April, Air Force leaders shared their memories of Cole's service and contributions.
"He was an Air Commando that understood the responsibility of freedom," said Lt. Gen. Brad Webb, commander of Air Force Special Operations Command at Hurlburt Field, Fla. "He was, in every sense of the word, a hero."