By Hannah Becker
Ashley Marshall is an attorney and a registered mediator. She is also the wife of an active duty Air Force pilot. After years of moving around the country and changing jobs with each move, Ashley started her own law firm, Cranford Marshall Legal, LLC, in Alabama. Now, Ashley is able to maintain consistency in her career, even if her family is faced with another PCS.
Ashley has a general law practice, and she dedicates part of her practice to serving military families by helping them navigate the legal waters of starting their own businesses. Ashley and her family are currently stationed at Fort Rucker, Ala.
Q. What's your military story?
A. My husband, Lt. Col. J.B. Marshall, and I have known each other since seventh grade, but … we did not start dating until later in life. I had heard that J.B. was deployed, and I sent him a message thanking him for his service. He must've been bored as we began messaging back and forth on a regular basis. After he finished his one-year deployment, we started dating and were engaged two months later.
J.B. is an active duty helicopter pilot in the Air Force, and our first duty station together was Fairchild Air Force Base in Spokane, Wash.
Q. Tell us about your business.
A. I am an attorney and registered mediator who hopes to make the lives of my clients a little bit better. I have a general practice in Alabama, but am also licensed in Washington and Oregon, and anticipate being licensed in other states in the future. I can help clients with all of their legal needs, including domestic relations, business formation, estate work, litigation, and just about anything else that comes up. One caveat is that I don't practice criminal law — I'd rather focus on other underserved areas of law. I've also devoted part of my practice to helping military families successfully start businesses. The legal requirements and regulations involved with forming businesses can be intimidating for some, so I like to make the process as easy as possible so my clients can concentrate on the business itself.
Q. What inspired you to start your own business?
A. Being the mom of two little boys. I have been blessed during this move to have been offered some awesome opportunities; however, in looking at those opportunities, it was evident that I wouldn't be able to be as present for my children as I wanted to be. … By starting my own business, I could build my career around my children and watch them score soccer goals, be the mystery reader at school, and attend school field trips. I could be in control of my own schedule.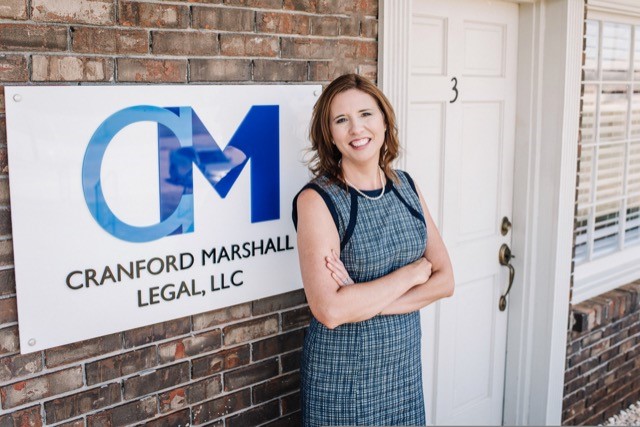 "By starting my own firm, I realized I had a better chance of retaining continuity in my career."
Q. How has the military community and experience influenced your entrepreneurial journey?
A. With each move, I've had to get additional attorney licensing, find new career opportunities, and start a practice from scratch. By starting my own firm, I realized I had a better chance of retaining continuity in my career. I decided to help military families after seeing firsthand the disadvantages that military families face in finding meaningful employment. Military spouses make great employees, and unfortunately aren't given the same opportunities to succeed as our civilian counterparts. By helping them form businesses, I am doing a small part to combat the problem of military spouse unemployment and underemployment.
Q. What's been the hardest part of starting your own business?
A. Starting from scratch. At our last duty station, I was unable to practice law due to licensing restrictions, so I had no recent clients to come on this adventure with me. I'm building my law firm from the ground up and have had to work hard to market myself and make connections in order to get clients.
Q. What resources and programs have you found helpful in blazing your own trail?
A. I'm lucky enough to be a part of some great associations that have been really helpful. To start, the Military Spouse J.D. Network, which is a network of attorneys who happen to be military spouses, has been wonderful. The organization helped me realize there are other attorneys who are also military spouses out there, and I'm not on my own with this journey.
Also, I have a great group of people surrounding me that are cheering me on to be successful. This group is made up of my family, my friends, and my military family. They are not only my cheerleaders, but they have been my sounding board to listen to my ideas.
I've also taken advantage of the many resources that are offered to military spouse entrepreneurs. I've spent quite a bit of time on the Small Business Administration's website, I have attended conferences and meetings for military spouse entrepreneurs and professionals, and have read multiple blogs and articles about being an entrepreneur.
Q. Why do you think entrepreneurship is good career opportunity for military spouses?
A. Military spouse unemployment and underemployment rates are high — much higher than our civilian counterparts. Entrepreneurship gives military spouses an opportunity to pave their own way and put together a career that works for their families. Entrepreneurship allows your career to be flexible, which is the key to military spouses being successful.
Q. How has starting your business inspired growth in your professional life?
A. Entrepreneurship has made me realize that I must continue to grow in order to be relevant. Not only must I stay on top of changes in the practice of law, but I must also stay on top of marketing strategies, technology, and business skills as well.
Q. Do you have any other projects in the works?
A. I'm working on developing an association for military spouse clubs. When I was President of the Barksdale Officers' Spouses' Club, I was surprised to learn that there was no resource for me to learn how to do the job and look for ideas outside of our base. There was no network of military spouse clubs — so I started the Military Spouse Club Leadership Forum on Facebook. Now, we've grown to the point where people within our forum are looking for training opportunities to be better leaders. We're at the infancy stages of this project and I can't wait to see how it grows.
Q. What advice would you give to other military spouses who want to start a business?
A. Don't be afraid to be brave and start your own business. Do your research to see what it takes to start your business legally. Don't be afraid to ask others for advice. Enjoy the hard work and rewards. If you get overwhelmed, find an attorney like me to help you navigate the process and make sure your business gets off to a successful start.
Connect with Ashley!
Hannah Becker is a marketing professional, tech innovator, and military spouse. She currently works as the creative director for Becker Digital and is an adjunct instructor of business, computer science, and economics.