[Note from MOAA: Our offices will close at 4 p.m. on New Year's Eve and reopen on Jan. 2.]
We have much to be thankful for as we celebrate the holiday season, close out MOAA's 90th year, and as we welcome what 2020 will bring.
This past year was a momentous one. As you read this, the 2020 National Defense Authorization Act (NDAA) is near the finish line, packed with legislation to help our service members, veterans and their families. A highlight is the long-fought full repeal of the widows tax. The 3.1% pay raise for our troops is a sign our country recognizes their service and its challenges. MOAA was there every step, keeping issues like medical billet cuts and military housing echoing in the halls of Congress.
You may be struck, as I am, with the December issue of Military Officer. Our members shared their memorable holiday moments, spent overseas and downrange. The issue also shared some of the classic military paintings of Norman Rockwell. His images capture a nation's spirit of service. His visualization of the Four Freedoms that President Franklin D . Roosevelt shared as reasons for entering WWII are iconic. Rockwell portrayed the "best of America," something we see on display most during the holidays, through our giving spirit.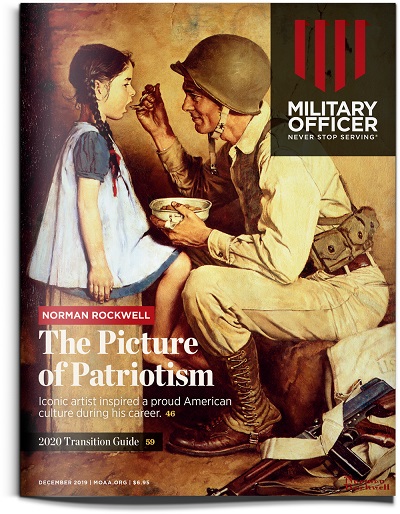 As we enjoy these freedoms, we are reminded of the sacrifices, then and now. We say a special prayer for those overseas and away from families as we gather with ours. We wish everyone the best this holiday season.
Merry Christmas and Happy New Year.
Lt. Gen. Dana Atkins is MOAA's President and CEO.