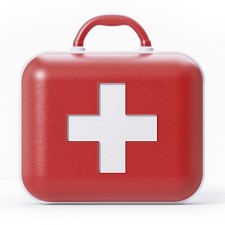 MOAA's TRICARE Toolkit provides insight and tips for navigating your TRICARE benefits. Have a question or suggestion for an upcoming column? Email beninfo@moaa.org. Read other TRICARE Toolkit columns at MOAA.org/tricaretoolkit.
An approach called "step therapy" requires patients to try less expensive medications before "stepping up" to more expensive options.
Step therapy policies are intended to direct medical providers and patients — who may not have visibility on prescription drug prices — to the most cost-effective treatments.
MOAA has recently heard from several MOAA members who have experienced barriers to getting long-term medications through the prior authorization process. These are patients who have successfully treated a chronic condition with a particular drug and are now being asked to switch medications on the basis of cost. To these beneficiaries, this is a step back.
[RELATED: Help MOAA Reverse Planned Cuts to Your TRICARE Pharmacy Benefit]
MOAA is concerned that not only does this disrupt continuity of care, but it increases the risk to patients who may suffer adverse effects from trying alternative treatments — both side effects from the new medication and/or negative consequences from the chronic health condition if the new medication is ineffective.
MOAA is working to ensure TRICARE pharmacy policy allows beneficiaries to access effective prescription medications safely and efficiently.
As a leading voice on Capitol Hill for controlling TRICARE fees, MOAA generally supports initiatives to contain costs if they are in line with industry standards for high quality health plans and maintain beneficiary access to care. To that end, we do not oppose step therapy requirements, provided TRICARE policy has guardrails in place to protect patient access to effective prescription medications.
[KNOW YOUR BENEFITS: MOAA's TRICARE Toolkit | 2022-23 TRICARE GUIDE]
About half of states have passed laws to protect patients by putting limitations on step therapy policies. The bipartisan, bicameral Safe Step Act of 2021 seeks to extend these limitations to all patients covered by group health plans. This bill would require insurers to implement a clear process for a patient or physician to request an exception to a step therapy protocol under five circumstances including "Patient is stable on their current medication."  
While TRICARE is not subject to state or federal laws regulating commercial health plans, they give us a benchmark for reasonable step therapy policy.
Because this policy change is relatively new, we haven't had visibility on how TRICARE is handling appeals for continuation of an effective medication. We know TRICARE has denied renewals for some drugs but we don't yet know to what extent, if any, they are making exceptions to the policy so patients with chronic conditions can continue an effective therapy.
Have you encountered new step therapy or "fail first" requirements for getting a prescription medication renewal approved? Please share your experience with us at legis@moaa.org. Your input is vital to our advocacy efforts.
Support MOAA Charities
Donate to the MOAA Scholarship Fund and The MOAA Foundation at the link below.