Lauren Drysdale was attending an awards ceremony at her California middle school when a teacher pulled her mother, Michelle, aside.
"She said, 'Get used to this, there are going to be a lot of these award ceremonies in your life,'" Michelle said.
That teacher's instincts about Drysdale were spot-on. An outstanding athlete and student, Drysdale was named class president throughout middle school and high school. This August, she became First Captain at the U.S. Military Academy at West Point, N.Y. Drysdale is also the captain of the Army women's soccer team and sports a 3.7 grade-point average.
As first captain, Drysdale sets the school year's agenda for the corps of cadets and serves as a liaison between cadets and the administration. To be considered for the role, a cadet must attend a series of interviews with high-ranking officers to gauge their leadership skills.
Those who make it through the interview process must train incoming cadets over the summer before their senior year. In Drysdale's case, she oversaw basic training as the cadets' regimental command sergeant major.
"To be first captain and as well as captain of the women's soccer team, I didn't think it was something that … was actually possible," Drysdale told MOAA. "But then through my summer evaluation, I guess they really liked what they saw."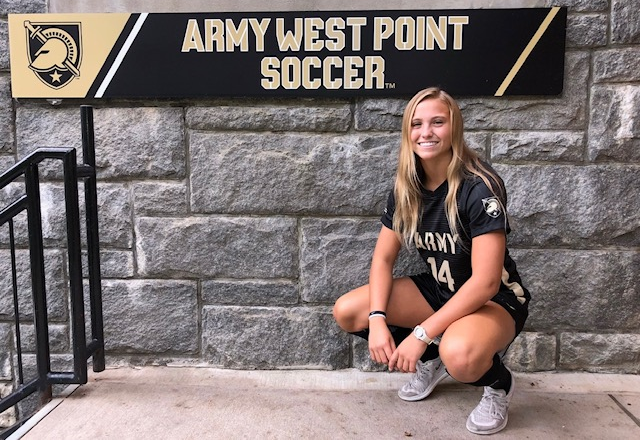 Cadet Lauren Drysdale has received numerous accolades for her soccer performance while at West Point, including all-Patriot League honors. (Courtesy photo)
"She never rested on her laurels as far as getting to a certain position," said her father, Michael. "She just took it to the next level. There is no telling what she can do."
While her parents didn't serve in the military, Drysdale has roots in service on both sides of her family. Her maternal uncle (a Life Member of MOAA) as well as her paternal grandfather and great aunt are retired Navy officers, while both her paternal great-grandfathers served in World War II.
When Drysdale traveled to West Point with Michelle on her second-to-last college visit, she was sold immediately. She committed to Army at the start of her junior year of high school despite receiving offers to play soccer at Dartmouth and the U.S. Air Force Academy in Colorado Springs, Colo., and receiving interest from Cornell.
"Leadership is a huge thing to me," Drysdale said. "[I asked myself] what opportunity would allow me to grow that leadership skill and then obviously be a part of something bigger than myself. … When soccer is done, the opportunity to continue having a similar feeling that you feel with the soccer team and on a field replicate well in the Army. So that's kind of what I think steered me toward West Point."
[RELATED: New Study Finds Even More Young Americans Are Unfit to Serve]
So far, so good for Drysdale, who is soaking up as much of her captainship as she can before beginning her military career. Drysdale wants to focus on engineering before possibly returning to West Point as a teacher one day.
"A lot of things happen at the academy … that require answers from higher leadership," Drysdale said. "… Having the opportunity to interact with a one-star [general] twice a week has been a great learning experience. And it is also super nice to just gain information about the academy."
Her motto for the cadets is "The Strength of the Corps is YOU." That saying appears on the jumbotron at the soccer and football games, something that makes her parents beam with pride.
"It is very, very humbling [to see that]," Michelle said. "It is an honor and a privilege, and I am still trying to wrap my head around it. It is such a big position."
Older sister Hannah, who played soccer with Lauren in high school, remains continually surprised by Lauren's achievements.
"I am in awe how well she has done and continues to do," Hannah said. "I am super proud of her."
A MOAA Premium Membership Comes With Many Benefits. Are You Taking Advantage of Them?
Visit our Member Value web page to see just how many benefits are waiting for you.
Then start using them.