Retired Army Capt. Clifford C. Mosier's lifelong commitment to serving his country began when he graduated high school and left his family's farm in Pawnee, Okla. He joined the Navy, where he would go on to serve three tours aboard three different aircraft carriers in just four years.
After deciding to change branches, he joined the Arkansas Army National Guard in the 142nd Field Artillery Brigade.
He soon attended U.S. Army Officer Candidate School and was the honor graduate of his class.
With the Vietnam War ramping up, Mosier decided he wanted to go. "I heard many stories about Vietnam, and I wanted to separate fact from fiction," he said.
So he attended flight school and headed to Vietnam as a Huey pilot.
This specific time in his career is one Mosier reflects on proudly. "The years I spent in combat in Vietnam were a highlight of my career," he recounted. "I actually miss it."
During his years in Vietnam, Mosier completed three consecutive combat tours flying attack, Dustoff, and insertion missions. The first of many service awards came at this time, when he received the Distinguished Flying Cross. By the time Mosier retired after 39 years of service, he had received three Bronze Stars and 31 Air Medals.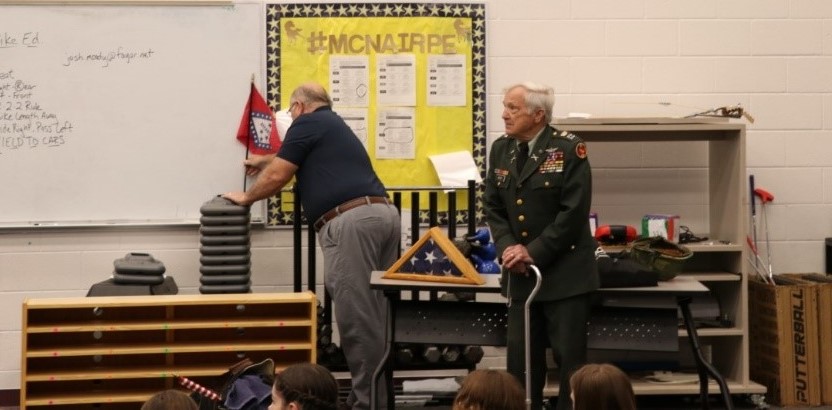 Capt. Clifford C. Mosier, USA (Ret), teaches a fifth-grade class in Northwest Arkansas through a program promoting U.S. flag education. (Courtesy photo)
Although Mosier hung up his uniform, his patriotism and passion for service only grew. Upon retirement, he became active in numerous veterans' groups, including the Northwest Arkansas Chapter of MOAA.
[RELATED: MOAA's Council and Chapter Resources]
For many years, Mosier held an important position within his MOAA chapter: flag education program coordinator. This program teaches fifth graders U.S. flag history and proper etiquette.
"We have reached and taught 5,000 students across 40 schools in two counties, and they have all been so receptive to it," Mosier explained. "That is why I do it."
Mosier's passion for respecting and honoring the American flag did not stop there. He took it one step further by initiating a program to install flagpoles at disabled veteran's homes throughout his community.
For his service to the nation and to the state of Arkansas, Mosier recently was inducted into the Arkansas Military Veterans' Hall of Fame Class of 2022.
"He is disciplined, organized, and focused," Col. Robert Crawford, USA (Ret), president of the Northwest Arkansas Chapter, said of Mosier. "He takes great pride in taking care of veterans."
Support MOAA Charities
Donate to the MOAA Scholarship Fund and The MOAA Foundation at the link below.